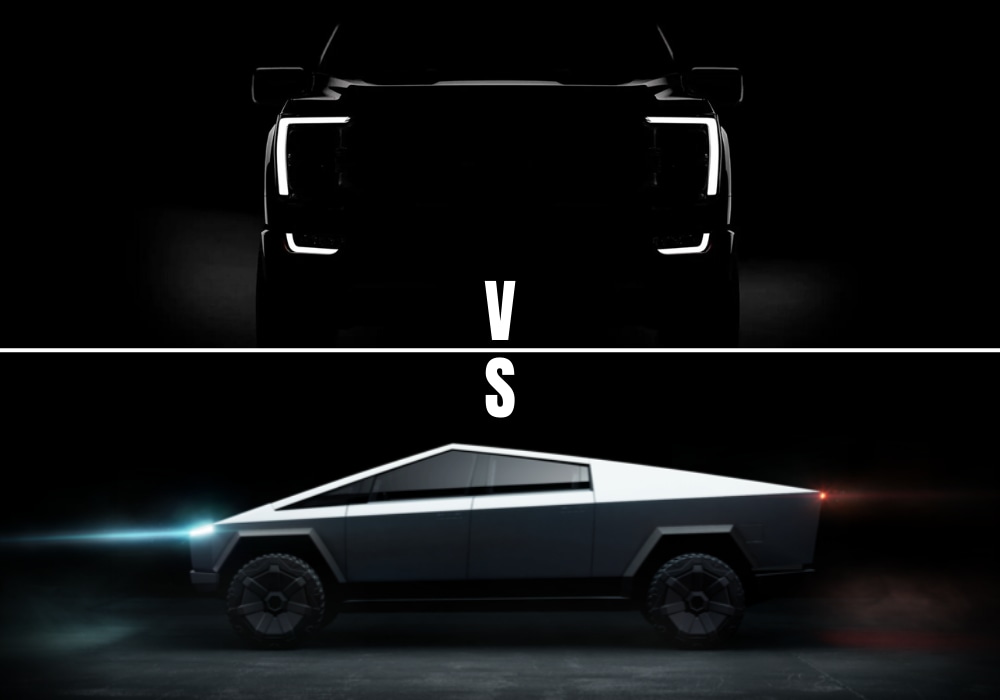 As a truck enthusiast, you might be wondering about all the buzz going on regarding the differences between the Ford F-150 and Tesla's upcoming Cybertruck. The Cybertruck and F-150 receive a lot of news and hype, but which one is worth your money? Can Tesla be trusted to deliver on every need that a truck buyer requires? In our F-150 vs. Cybertruck comparison, we will look at the performance specs, design, capability, and features of both vehicles. Ultimately, we will show you why the F-150 is a better buy for those looking for a real truck.

View New Ford F-150 Inventory


2021 Ford F-150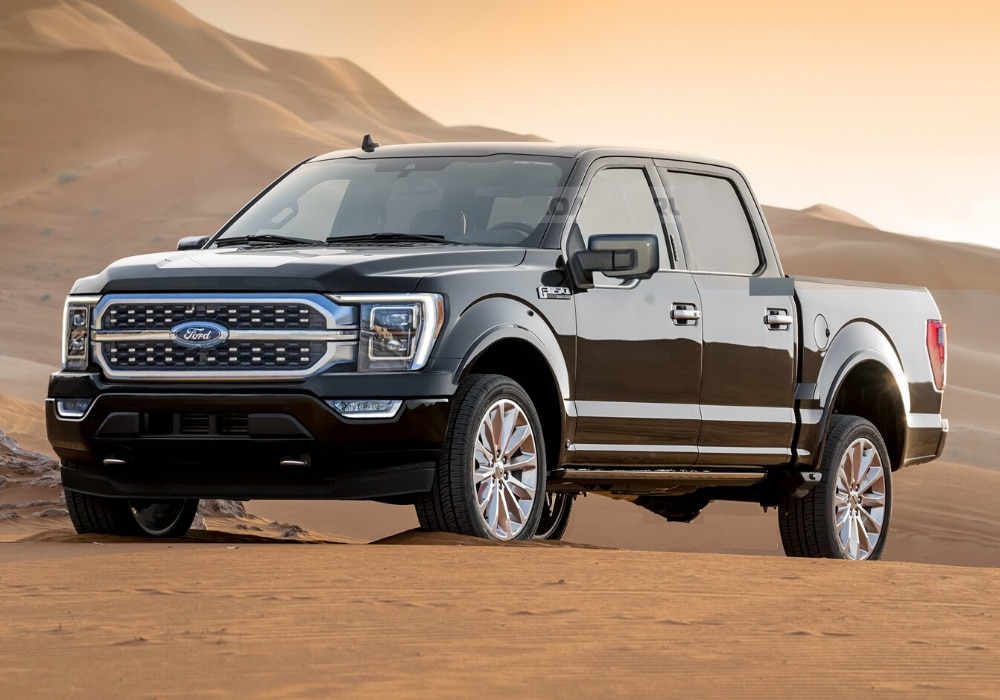 2022 Tesla Cybertruck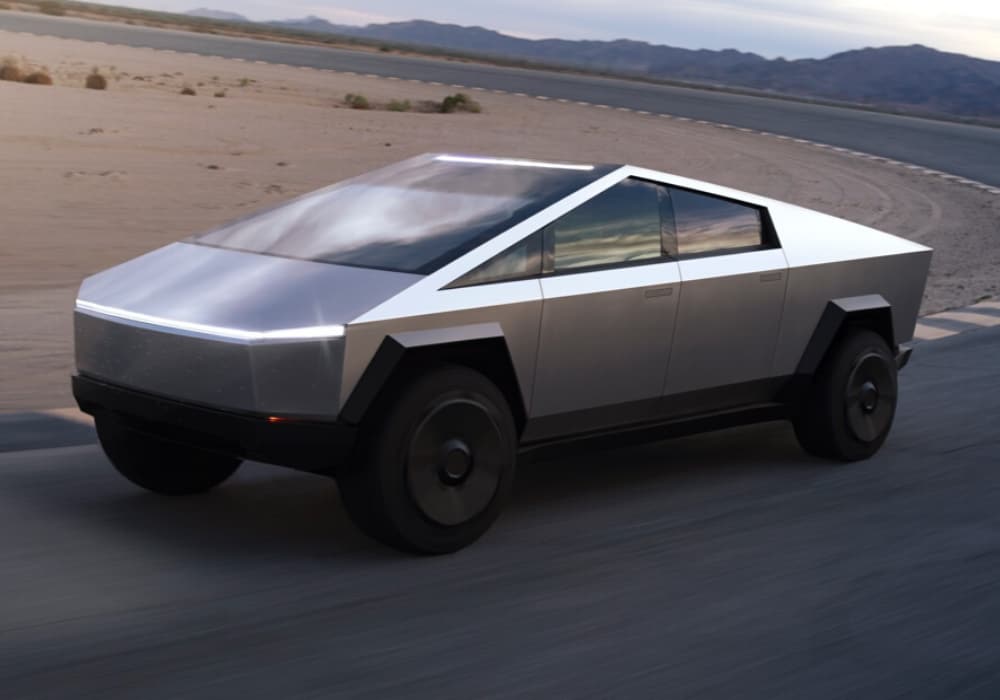 Price Comparison
While the official pricing of the 2021 Ford F-150 hasn't been released yet, we expect it to be comparable to the current lineup. The base F-150 pick-up sells for around $29,000. That is far less than the MSRP of a Tesla Cybertruck at $39,000. However, at this price, owners only gain access to the Single Motor truck variant, instead of the higher-powered Dual- or Tri-Motor models. That means a significant reduction in performance, range, and capability.


Ask Us About the 2021 Ford F-150
Ford F-150 vs. Tesla Cybertruck: Comparing Configurations
The new Ford F-150 comes in several variations and trim levels, allowing for complete customization. On the other hand, the Tesla Cybertruck only offers various motors, without a full range of truck formats. Additionally, Tesla continues to compare the Cybertruck against Ford F-150, but it's not a fair comparison in terms of classification. Most likely, the government will classify the Cybertruck as a medium-duty pick-up, which puts it in the same class as the Ford Super Duty series. With that in mind, people should be comparing the Tesla Cybertruck vs. F-250 or even the F-350 for a fair evaluation. It's like if we compared the Ford F-150 to a smaller truck, such as the Chevrolet Colorado or Toyota Tacoma, and claimed: "it's a fair comparison."


Interior Design Comparison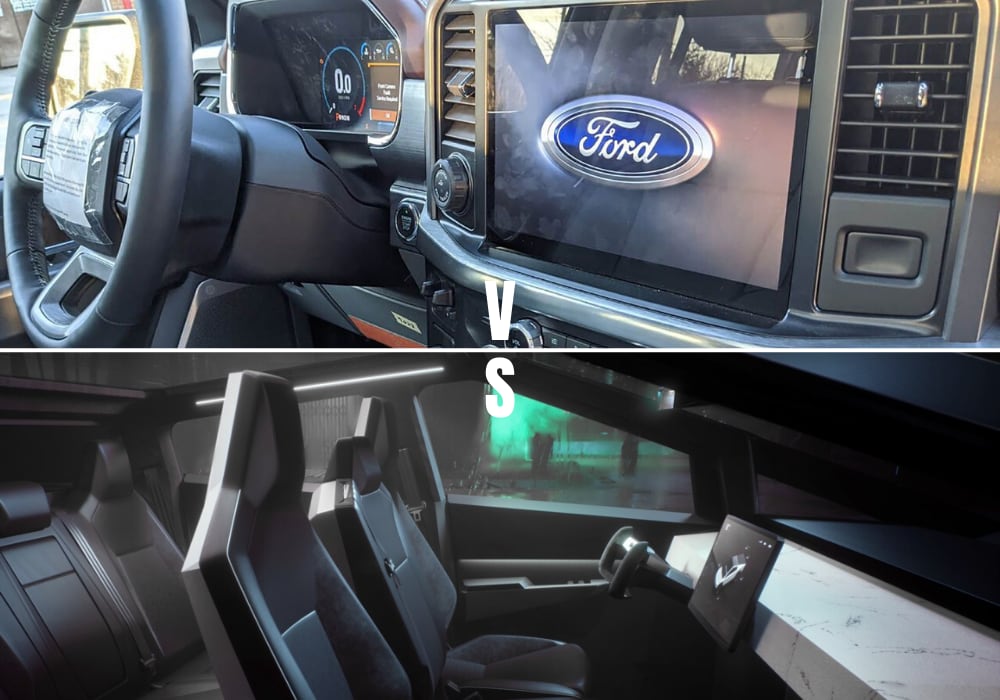 The 2021 Ford F-150 holds between three and six occupants, depending on the configuration you choose. From what we can tell, the phrase "cab configuration" is lost with the Cybertruck. Its minimalistic interior appears to hold 5-6 people, but it ends there. The cab comes "as-is" and doesn't seem to allow for much customization. The Ford F-150 offers three different cab configurations: Regular, SuperCab, and SuperCrew. The F-150 comes with a larger eight-inch touchscreen than the previous models, or you can choose the optional 12-inch touch screen instead. Ford has certain technologies that are either absent on the Cybertruck or not revealed. These F-150 technologies include things such as Pro Trailer Backup Assist, Blis with Trailer Coverage, Hill Descent Control, FordPass Connect, SYNC 4, Apple CarPlay, Android Auto, Ford+Alexa, and Ford & Waze; not to mention the Ford Co-Pilot360 safety suite. So far, Tesla continues to promise plenty of features, but all reports show just a minimalistic dashboard with one laptop touchscreen. If you believed the Model 3 interior didn't have much to offer, you wouldn't be impressed by the new Tesla truck's interior design.


Comparing Exterior Design & Size Dimensions
Another aspect to evaluate between the Ford F-150 vs. Tesla is the exterior size. The 2021 Ford F-150 dimensions should measure between 209-251″ L x 80-86″ W x 75-79″ H. In comparison, the Tesla Cybertruck comes with dimensions of 231.7" L x 82" W x 75" H. At first, the Cybertruck was much larger, but it seems to be slowly transitioning into the size of a normal pick-up truck. Now comes the question of weight. Since the Cybertruck will most likely get classified as a Class 2B medium-duty vehicle, it should weigh between 8,500 to 10,000 lbs. EVs are notoriously heavy, and the Cybertruck is no different. The Model 3 weighs almost as much as the entry-level F-150. To put things in perspective, the Ford F-150 weighs between 4,069-5,697 lbs. Additionally, the 2021 Ford F-150 offers three truck bed sizes: 5'5", 6'6", and 8'. In comparison, the Tesla Cybertruck only offers a 6'4" cargo bed.
As you can see, the Ford F-150 truck has a more comprehensive range, perfect for fitting any need. Truck beds are needed for a variety of things, and giving people a choice to meet that need is critical. Initial reports suggested that the Cybertruck design was too large, obtrusive, and awkward to use every day. The Cybertruck size was met with negative feedback, which most likely lead Tesla toward the decision to reduce the size.


Engines, Powertrain, & Performance Comparison
One of the most significant advantages when looking at the Ford F-150 are the engine options. You have plenty of choices available with the F-150 pick-up. Consider the 3.3-liter V6, twin-turbo 2.7-liter EcoBoost V6, 5.0-liter V8, twin-turbo 3.5-liter V6, H.O. 3.5-liter EcoBoost V6, 3.0-liter Power Stroke turbo-diesel V6, or the brand-new, class-exclusive 3.5-liter PowerBoost Full-Hybrid V6 engine. This is the first-ever Ford F-150 Hybrid. There is an engine for every need. Whichever engine you opt for, you get paired to a smooth-shifting ten-speed automatic transmission, and the F-150 truck comes as a rear- or four-wheel-drive model. In the future, around 2022, we will see an all-electric Ford F-150 pick-up as well.
The Tesla Cybertruck comes with three motor options: Single Motor, Dual Motor, and Tri-Motor. The single-motor variant is rear-wheel-drive only, while the other two have all-wheel-drive. A single motor Cybertruck is only rated to drive about 250 miles before needing a charge, which could hinder many truck owners from looking to get the job done on a budget. The Tri-Motor Cybertruck claims 500+ miles of range, but we will believe it when we see it. The Tesla Model S just broke 400 miles of range after eight years of production. Since the Model S is currently their most expensive, high-end model, we are skeptical about the Cybertruck's range, which is poised to cost less than the Model S. The standard range fuel tank on the F-150 holds 23 gallons while the extended range fuel tank holds 36 gallons. With up to 21 city/28 highway mpg, this translates into a maximum combined fuel range around 624-864 miles (standard range-extended range with combined fuel economy) for the F-150. Even on the high-performance Ford Raptor, which gets 15 city/18 highway mpg, you can still expect a fuel range around 416-576 miles. At almost every level, the Cybertruck will require a recharge long before you need to refuel your F-150.


Ford F-150 vs. Tesla Cybertruck: Comparing Towing Capacity & Payload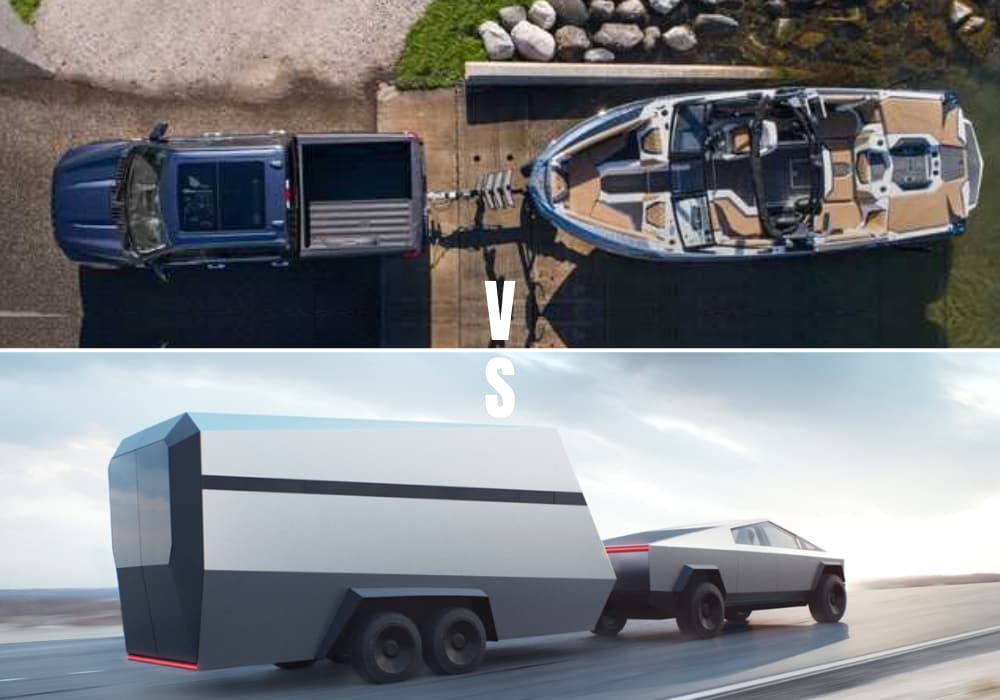 With such an extensive lineup of engines, the 2021 Ford F-150 will be able to tow up to 13,200 pounds and haul 3,200 pounds. Tesla claims that the Cybertruck with three motors should tow up to 14,000 pounds and haul 3,500 pounds. To achieve these numbers, the most affordable options are the F-150 SuperCrew XL trim for an estimated starting price of $38,720 or the Tri-Motor Tesla Cybertruck currently priced at $69,900. For the price difference and truck classification, the Cybertruck should come with a lot more capability. What's truly impressive here is the F-150. Tesla is trying to push equality-in-numbers for the Cybertruck against the bar-setting F-150. However, for a higher truck classification, the specs should not be close. For example, the max conventional tow rating for the F-250 Super Duty is 24,200 lbs. whereas the max conventional tow rating for the F-150 is 13,200 lbs. In that regard, the capability of the Tesla Cybertruck is not impressive. Even though the Cybertruck is in the same vehicle classification as the Ford Super Duty F-Series, the F-150 still has awe-inspiring towing and payload numbers. We can only imagine the disappointment that the public would have in Ford if they debuted a Super Duty truck with similar towing/payload specs as the F-150.
Furthermore, the publicity stunt offered by Tesla, where the Cybertruck was in a tug of war with the F-150, was an unfair matchup. Pitting an RWD truck against an AWD truck, where one is much heavier than the other with more torque, is not a well-balanced experiment. On top of that, Tesla has never produced a truck before and has no idea how much strain the towing, hauling, or towing + hauling will put on the electric motors. Overall, it's simply not the best buy for someone looking to complete heavy-duty jobs with a consistent, reliable truck.


Comparing Advanced Safety Features & Ratings
We don't have safety ratings on either truck yet, but we are entirely confident in the Ford F-150. When you look at the safety features of the Ford F-150 vs. Tesla Cybertruck, it's evident that driver and passenger safety is a concern for both manufacturers. All F-150 trucks come with automatic emergency braking, forward collision warning, and a rearview camera. Plus, there are many other options to add, as well as the Ford Co-Pilot360 advanced safety suite, which bundles several driver-assist technologies such as lane-keeping assistance and pre-collision assist with automatic emergency braking. The F-150 also has a glowing safety record with both the IIHS and NHTSA. The 2019 Model 3 earned Tesla's first-ever IIHS safety award after ten years of producing vehicles. The Ford F-150 has received IIHS safety awards for multiple years. Tesla also adds the controversial self-driving Autopilot feature to its truck and offers the Full Self-Driving upgrade for another $7,000. However, these aren't systems that most people feel comfortable relying on at this time.


Here's Why the Cybertruck is No Threat to the F-150 & Not Right for Truck Buyers
It's clear that the F-150 sales aren't going to diminish as a result of the Cybertruck debut. Tesla doesn't know truck buyers; Ford knows truck buyers. The Cybertruck's design is jarring and not appealing to the average truck buyer. The Cybertruck seems to have been designed for an EV enthusiast who occasionally thought owning a truck might be cool. Functionality is questionable, and overall vehicle range/performance is a concern, especially with consistent heavy-duty work tasks day after day. In general, it's just not clear yet how that will affect an EV battery/motor. Unfortunately, Tesla has developed a bit of a reputation for over-promising and under-delivering, which could be a significant concern for truck buyers that need those proposed specs delivered upon. Truck owners have a distinct need separate from that of an EV buyer or the sedan/SUV buyer. This F-150 vs. Cybertruck breakdown proves that Tesla can't provide that need or doesn't understand it. If you need a truck, you don't need to wonder if you should buy an F-150 or Cybertruck when the time comes. Ford knows trucks and has the track record to prove it. The Ford F-150 is built for the work you require.

View New Ford F-150 Inventory