ABOUT TUSCANY MOTOR CO.
Tuscany Motor Co., now a division of Fox Factory, began in 1988 with a goal to be the undisputed leader in custom lifted truck manufacturing. Now partnered with iconic brands like Shelby America, Harley-Davidson, and Hasbro-Tonka, they have built some of the best known, state-of-the-art, trucks on the market. Tuscany trucks are designed to offer luxury, power, and performance. 
Phil Long Ford of Chapel Hills is a proud Tuscany Motor Co. dealer offering high-quality, customized lifted trucks for sale in Colorado. Look no further for the custom 2022 Ford truck of your dreams. View the current available Tuscany truck model lineup below.  We can get the following trucks for you - just let us know what you are looking for. Each of these Ford trucks is customized to fit a particular need. Here are some generalized specs for each, but we encourage you to learn more by talking with one of our helpful sales representatives. 
  

Buy a custom lifted truck that will stand the test of time - technologically, structurally, mechanically, and alluringly.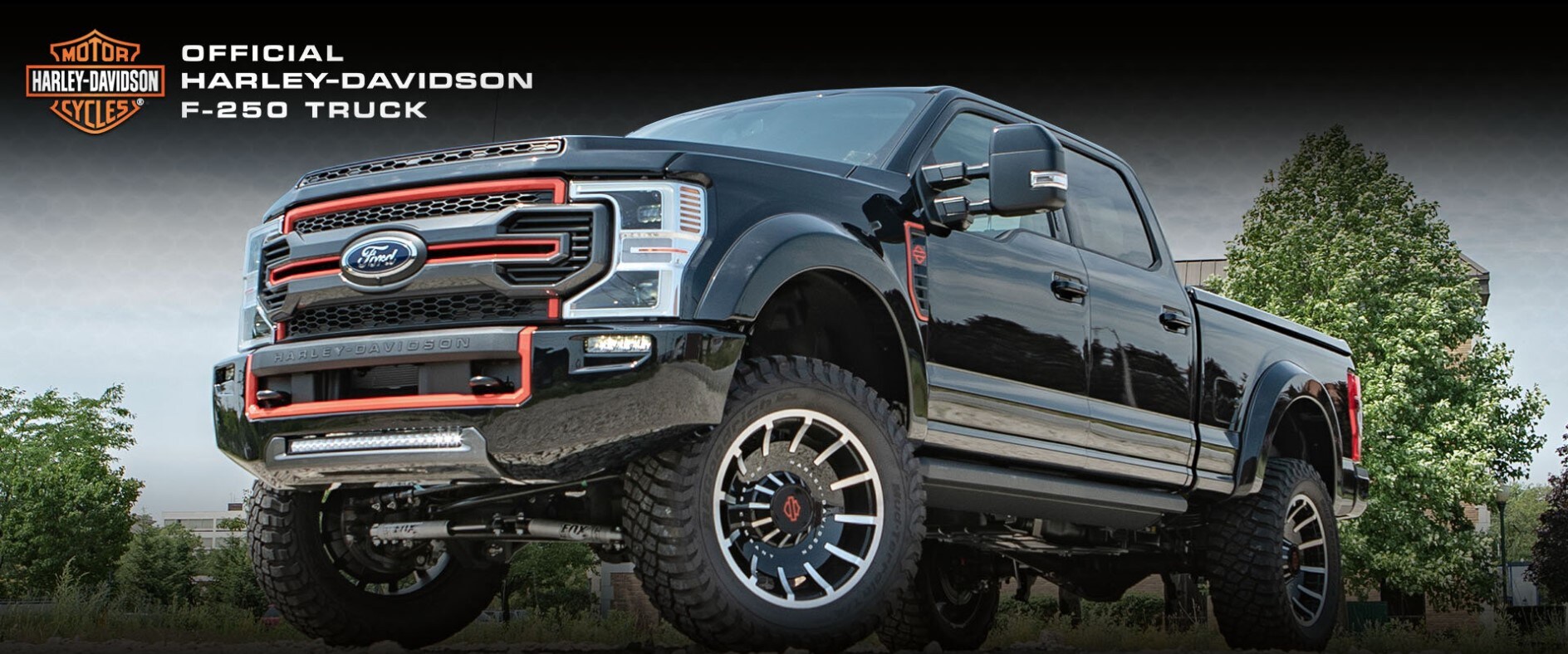 F-250 Harley Davidson
Only 500 Built per Year
FOX 2.0 Performance Shocks (Specially Tuned)
BDS Suspension Made for Harley-Davidson
Dual Billet Aluminum Exhaust Tips/Orange Accents
FOX Steering Stabilizers (Dual)
Fender Vents with Special Logo
Replacement Grille - Textured Honeycomb Mesh/Accent Color
Replacement Ram Air Hood (Raptor Style Insert)
Custom Painted Rear Bumper Covers
Tailgate Branded Cladding "Harley-Davidson"
Piano Black Trim Accent on Dash, Steering Wheel and Doors
Harley-Davidson Console Emblem Numbered Edition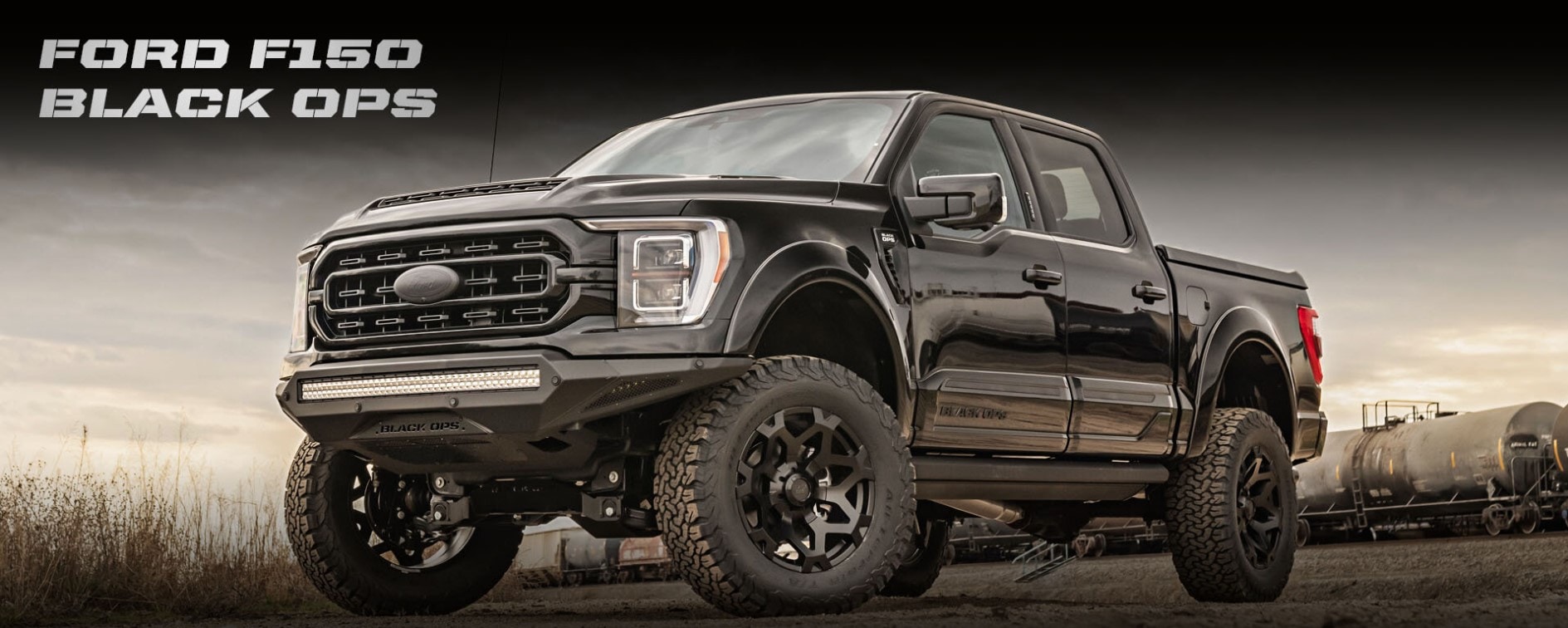 F-150 Black Ops
20" Stealth "BLACK OPS" Black Tuscany Wheels
BDS Tuscany Suspension
325/60R20 BFGoodrich KO2 Tires
FOX 2.0 Performance Shocks
XL Power Boards Including Lights & Rock Guards
Dual Tip Black Powder Coated Performance Exhaust
Custom Painted Fender Vents
Custom Painted Fender Flares
Replacement Black Ops Front Bumper/40″ & 2-6″ LEDs
Bed Rug Carpet Bedliner
Leather Seats With "Black Ops" Headrest Embroidery
American Flag Seat Patches
Numbered Plate (Limited Edition)
Deep Tint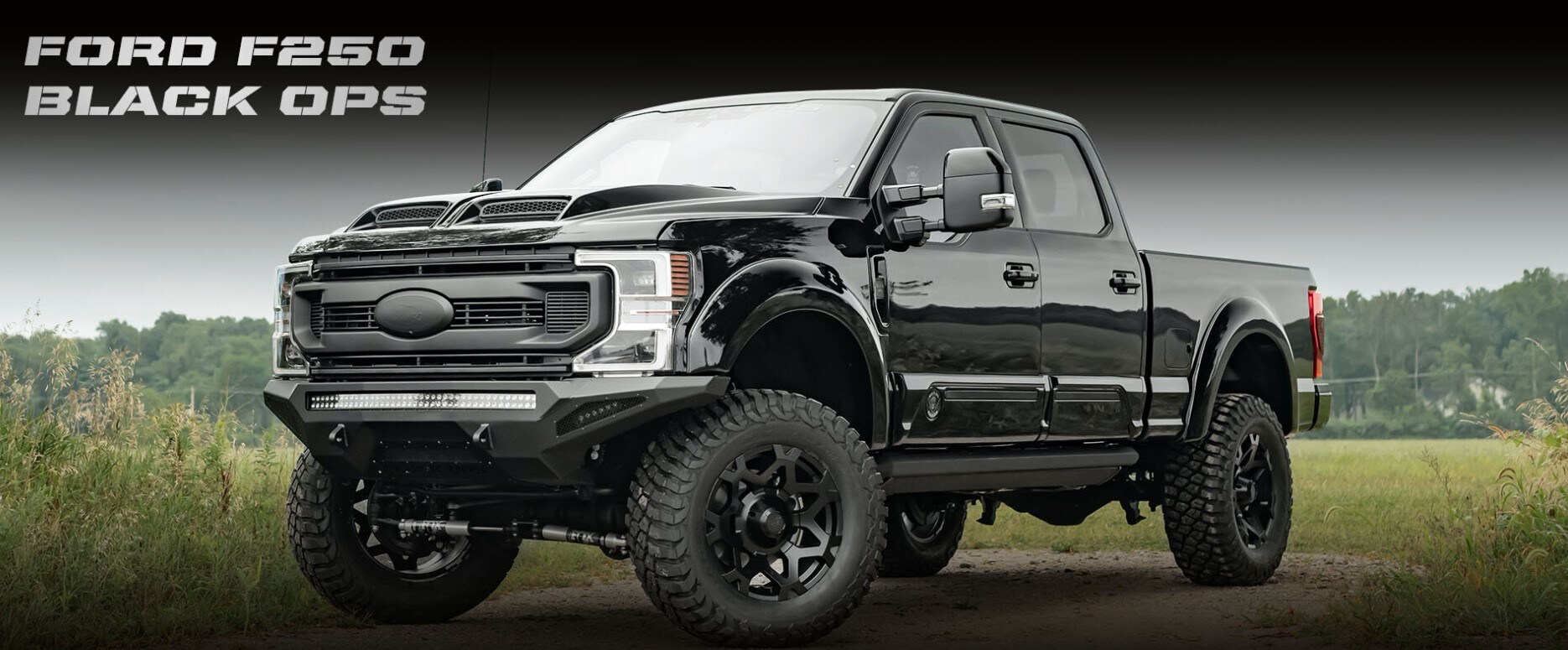 F-250 Black Ops
Tuscany Suspension Lift
FOX 2.0 Performance Shocks
FOX Dual Steering Stabilizers
Power Steps Including Lights & Rock Guards
Replacement Black Ops Front Bumper/40″ & 2-6″ LEDs
Undercoating Protection
Exterior Badging "BLACK OPS by TUSCANY"
Recalibrated Tuscany Speedometer
Carbon Fiber Console, Door, Dash and Steering Wheel
Black Ops Stainless Steel Gauges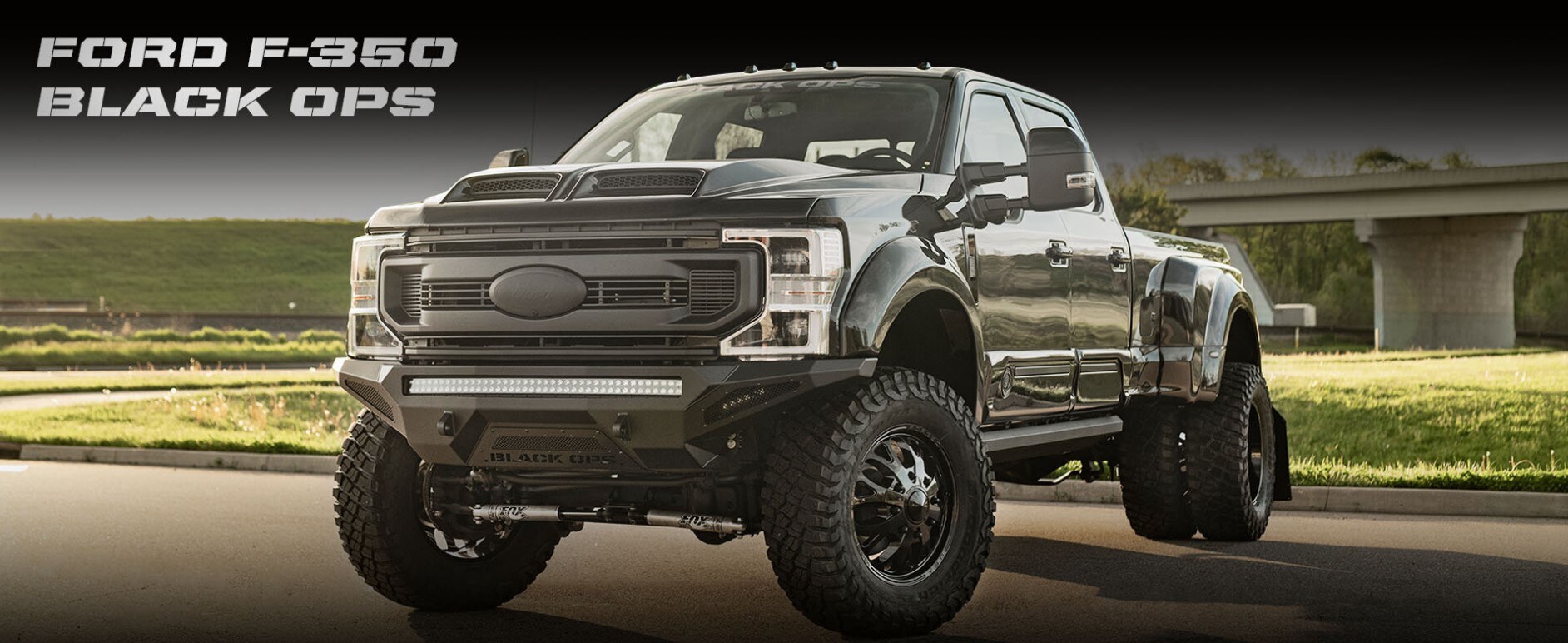 F-350 & F-450 Black Ops
20" Stealth "BLACK OPS" Black Tuscany Wheels
37" Tires
FOX Dual Steering Stabilizers
Black Powder Coated Performance Exhaust
Custom Painted Door Cladding (Black Ops Logo)
Custom Painted Ford Ovals
Custom Painted Rear Bumper Caps
Clearance Lights on Roof (Smoke)
Replacement Black Ops Front Grille
Embroided & Carpeted Black Ops Floor Mats
Custom Mud Flaps
Numbered Plate (Limited Edition)
Deep Tint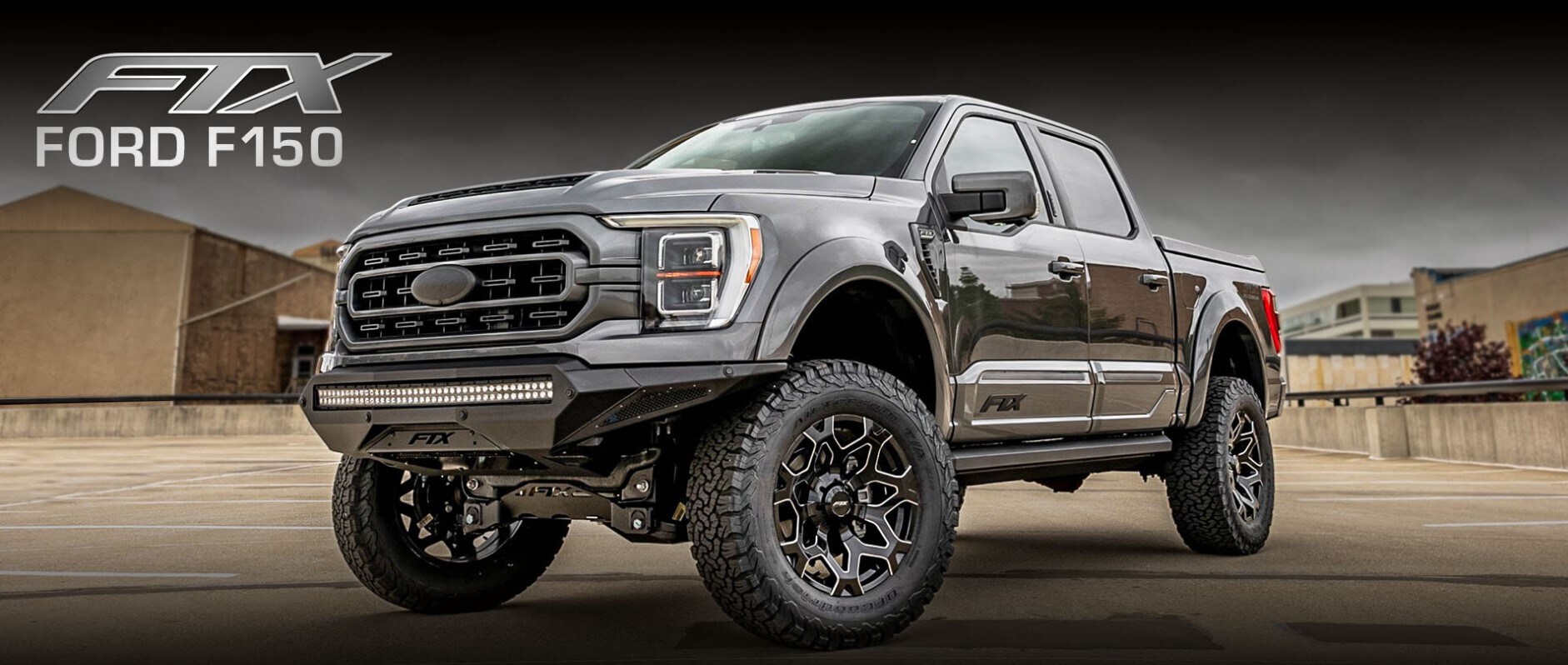 F-150 FTX
20" Chrome Tuscany Wheels
325/60R20 BF Goodrich Tires
BDS Tuscany Suspension Lift
FOX 2.0 Performance Shocks
Recalibrated Tuscany Speedometer
XL Power Boards Including Lights & Rock Guards
Dual SST Performance Quiet Tone Exhaust
Custom Painted Fender Vents & Flares
Front Bumper LED Light Bar
Custom Tonneau Cover/Carpet Liner
Bed Rug Liner
Factory Seats with FTX Headrests
Numbered Plate (Limited Edition)
Deep Tint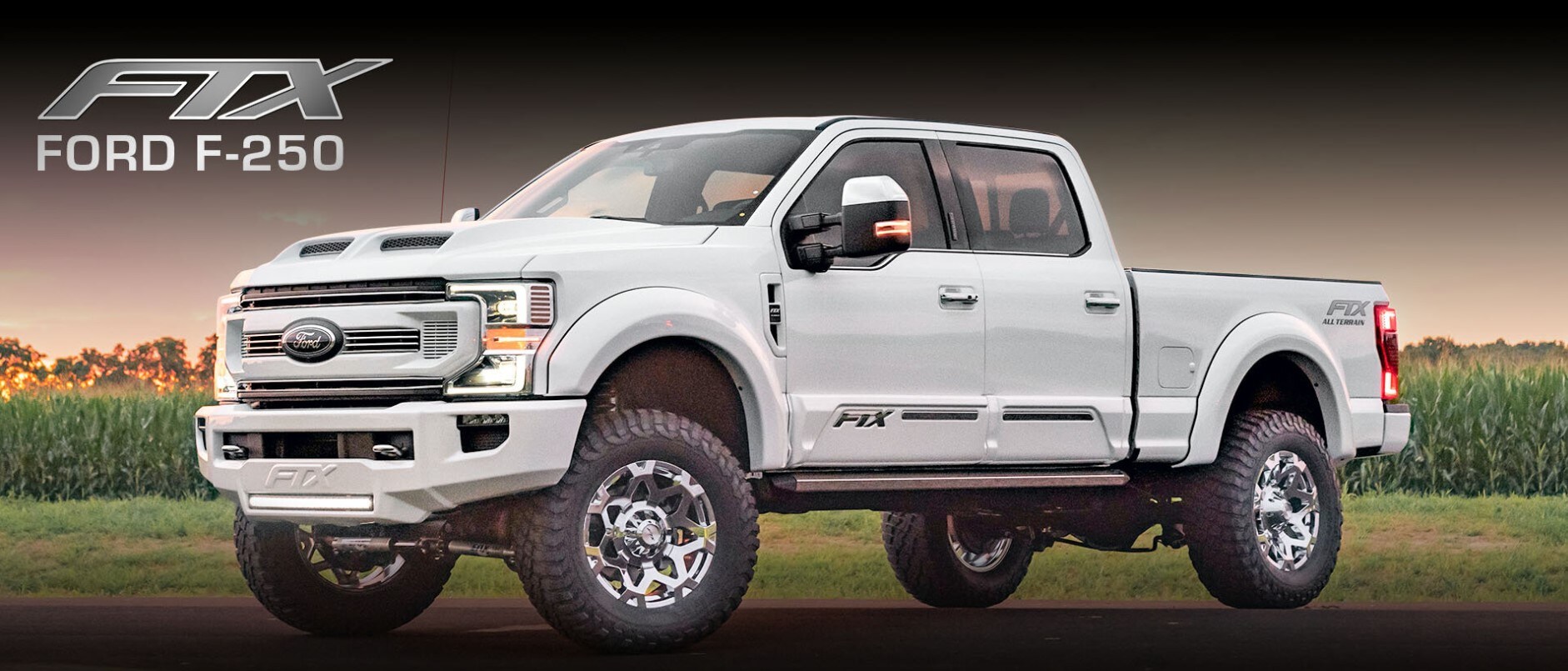 F-250 FTX
20" Chrome Tuscany Wheels
37"/13.5/R20 BF Goodrich Tires
BDS Tuscany Suspension Lift
FOX 2.0 Performance Shocks
Recalibrated Tuscany Speedometer
Power Steps Including Lights & Rock Guards
Polished SST Exhaust
Custom Painted Fender Vents & Flares
FTX Stainless Steel Gauges
Factory Seats with FTX Headrests
Numbered Plate (Limited Edition)
Deep Tint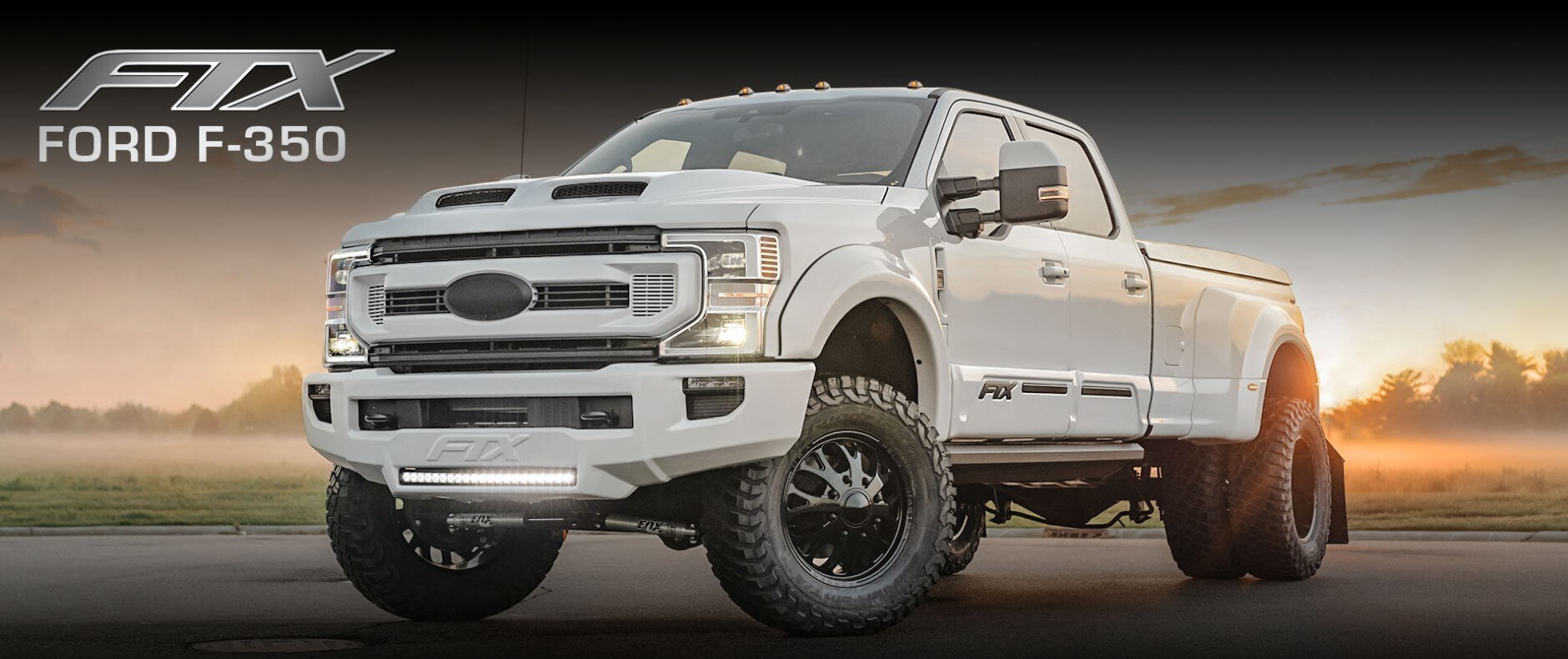 F-350 & F-450 FTX
20" Polished Tuscany Wheels
37" BF Goodrich Tires
BDS Tuscany Suspension Lift
FOX 2.0 Performance Shocks
Recalibrated Tuscany Speedometer
Power Steps Including Lights & Rock Guards
Polished SST Exhaust
Custom Painted Fender Vents & Flares
FTX Fascia
FTX Stainless Steel Gauges
Factory Seats with FTX Headrests
Numbered Plate (Limited Edition)
Deep Tint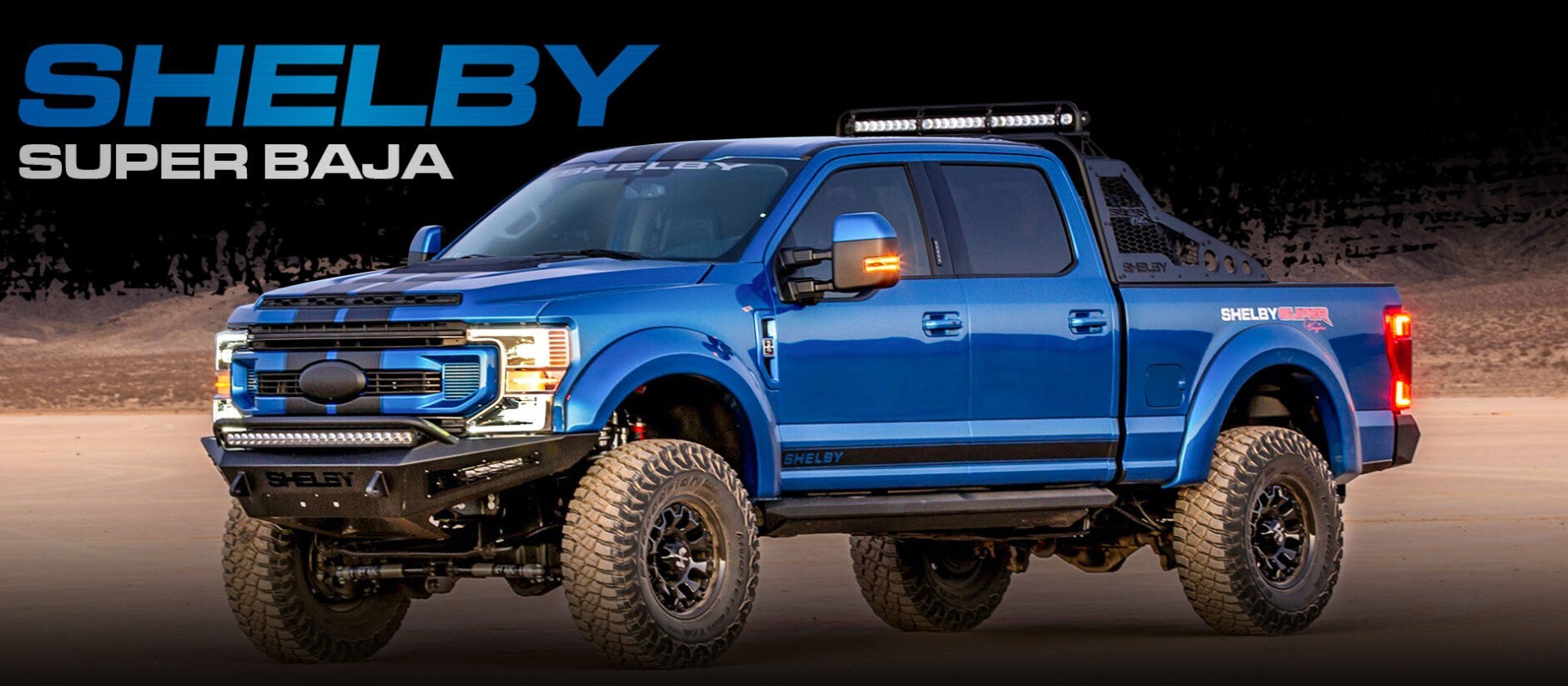 F-250 Super Baja
Production Limited to 500 per Year
6.7L PowerStroke® Engine (Diesel)
FOX Performance Suspension
Lariat Ultimate Trim
Best-in-class Towing
1,050 Pound-feet of Torque
Recorded in the Official Shelby Registry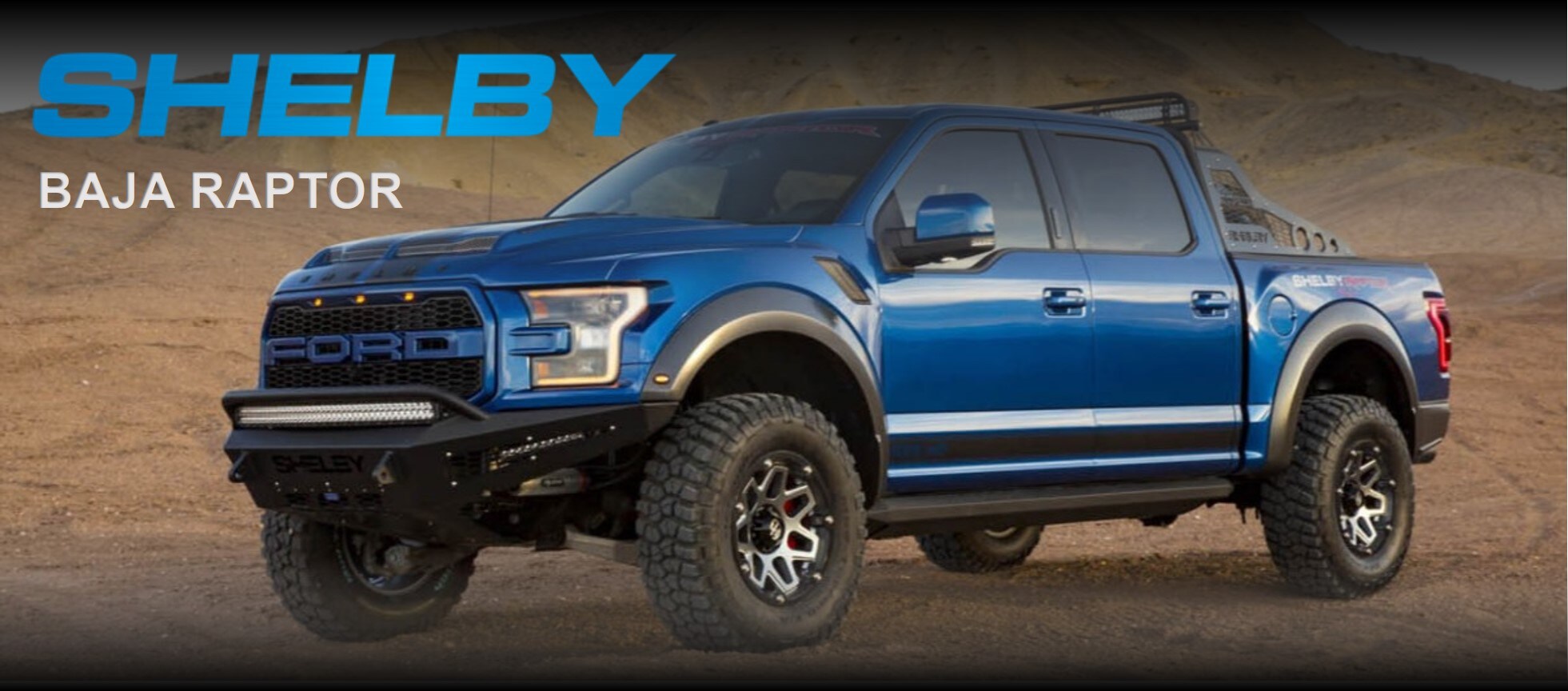 Baja Raptor
Production Limited to 300 per Year
525+ Horsepower
610+ fp Torque
Recorded in the Official Shelby Registry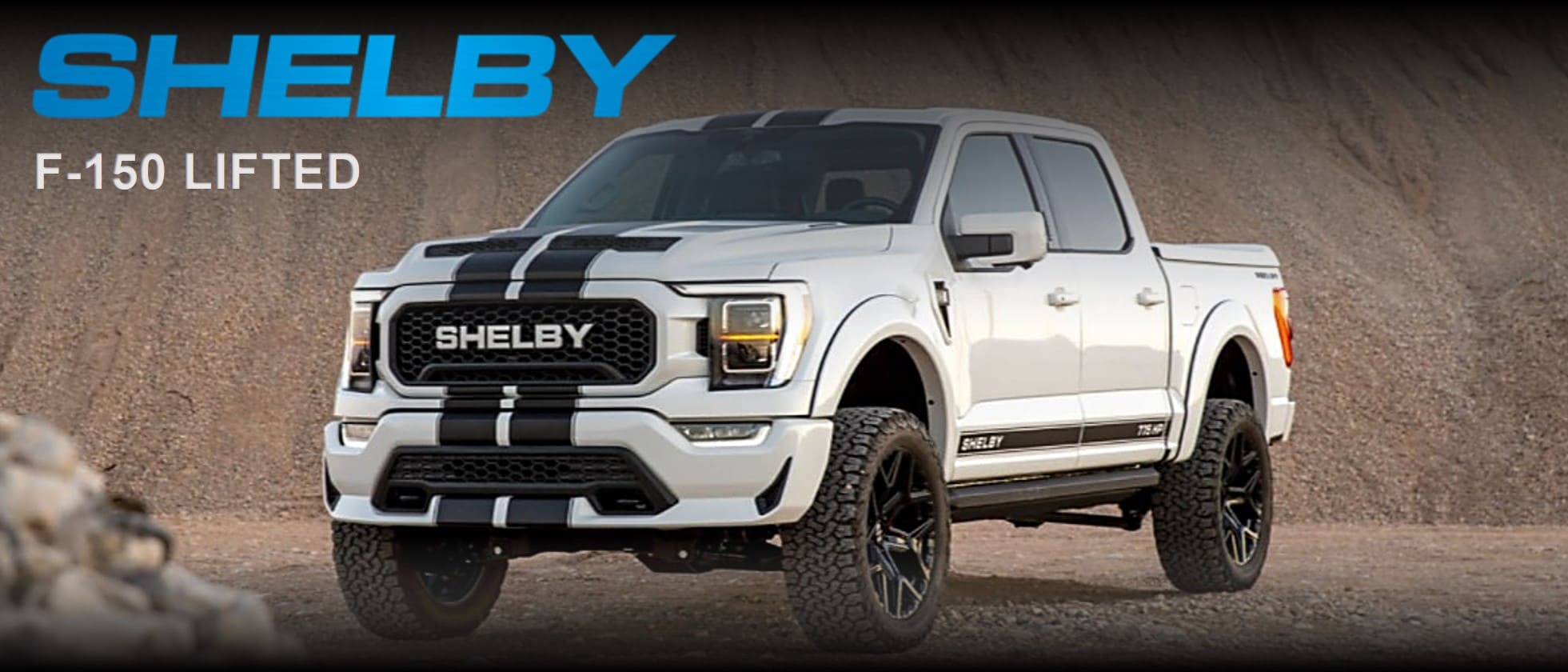 F-150 Lifted
Production Limited to 600 per Year
775+ Horsepower
Shelby by Borla Performance Exhaust
Blak Dual Exhaust Tips
Rear Traction Bars
Shelby by FOX Suspension System
Recorded in the Official Shelby Registry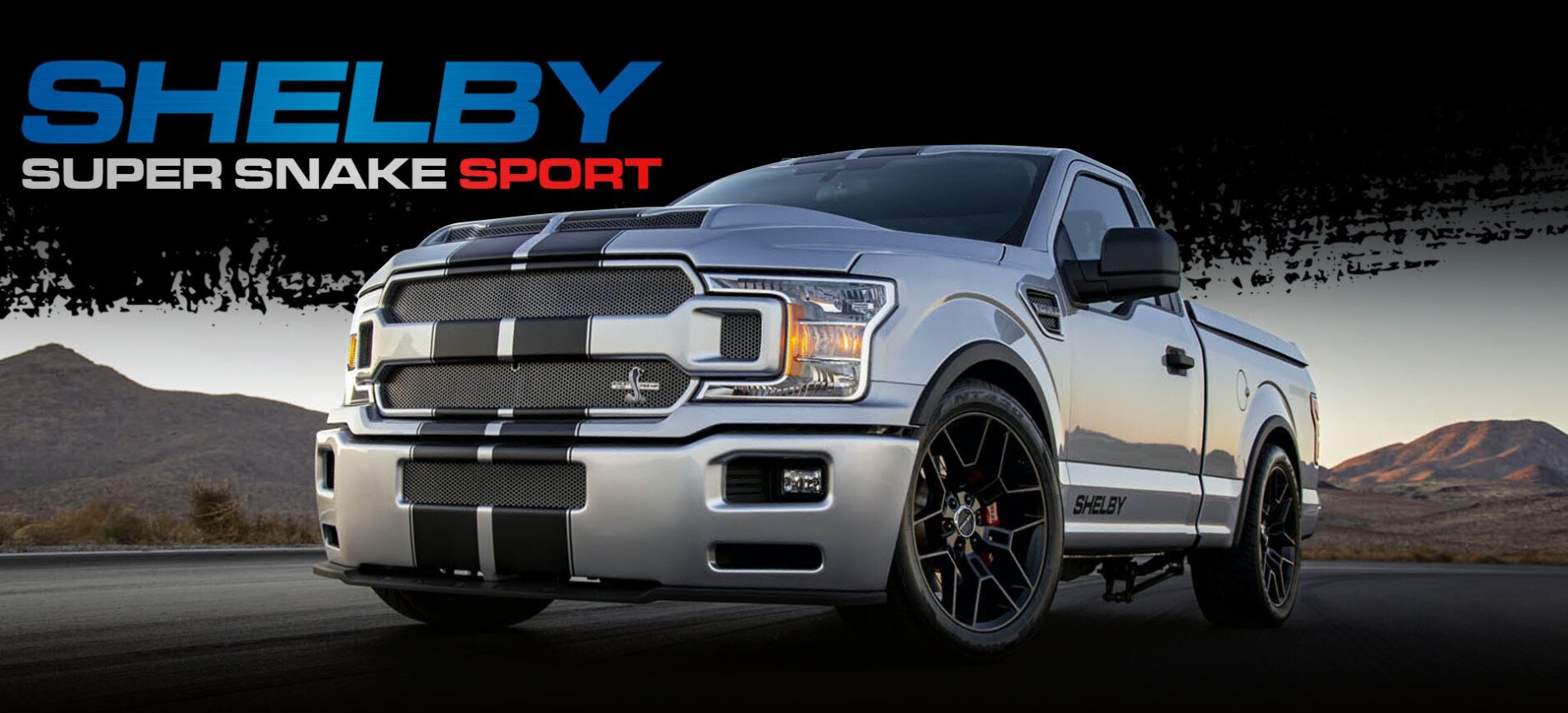 Shelby Super Snake Sport
Production Limited to 300 per Year
775+ Horsepower
All-New Lowering Suspension System
Open Air Performance Intake with High Flow Filter
Rear Shocks
Front Coil Suspension
Adjustable Rear Sway Bar
6 Piston, Red Front Calipers
Slotted Rotors (front and rear)
Recorded in the Official Shelby Registry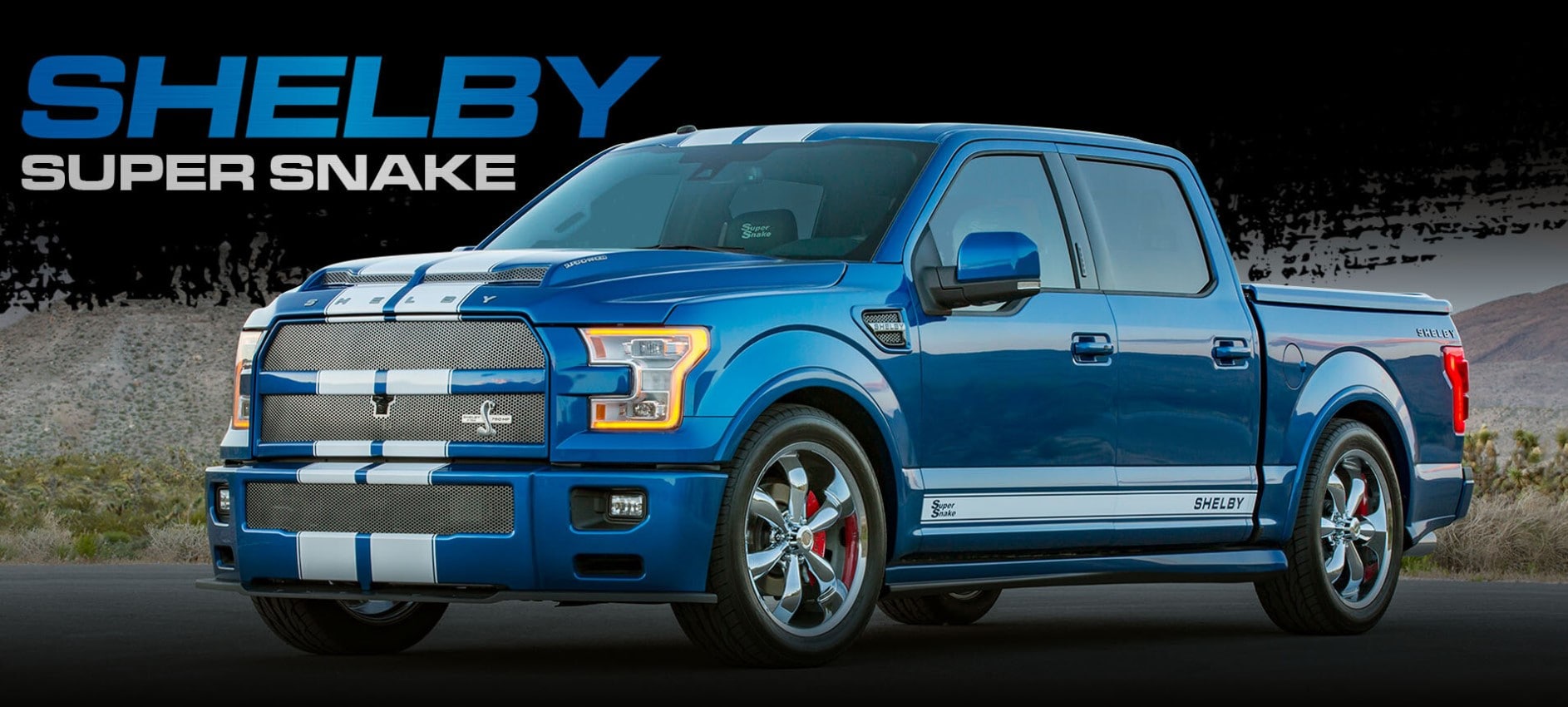 F-150 Super Snake
Production Limited to 300 Models per Year
775+ Horsepower (Supercharger)
Polished SST Dual Exhaust Tips
Shelby by Ridetech Suspension System
Luxury Interior Package
Recorded in the Official Shelby Registry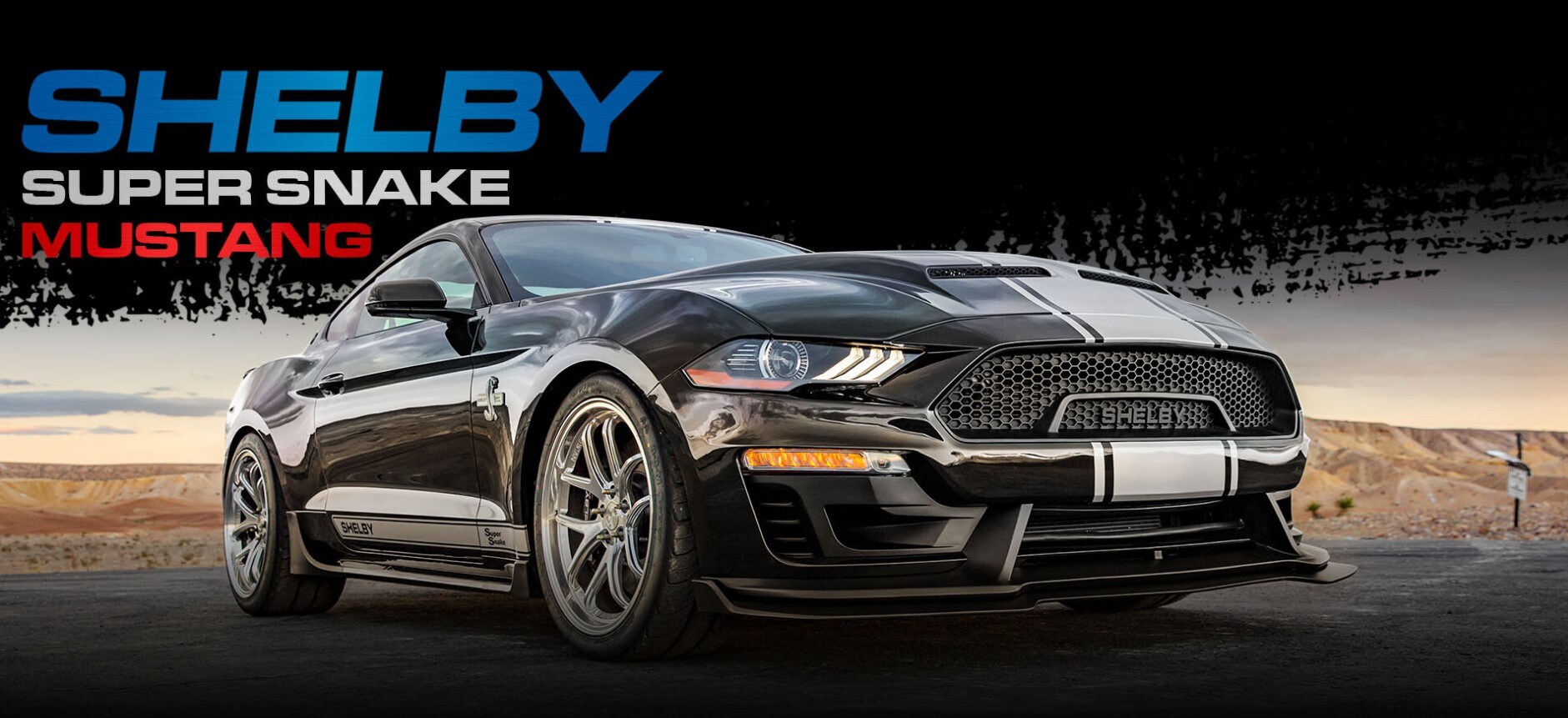 Mustang Super Snake
825+ Horsepower (Supercharger)
Luxury Interior Package
250 Models Each Year
Recorded in the Official Shelby Registry