Welcome to Our Parts Department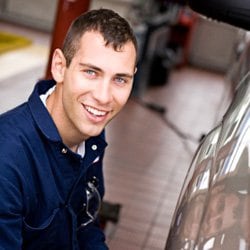 Phil Long Ford at Chapel Hills's Department  maintains a comprehensive inventory of high-quality genuine OEM parts. Our highly knowledgeable staff is here to answer your parts inquiries.
Need a part for your car? Maybe you need to replace a side mirror or a light cover. If you need something like a clutch or alternator, you want to make sure it will work on your Ford vehicle. Our parts department orders and uses only Ford OEM, Original Equipment Manufacturer, parts, so you are protected.
If you're looking to personalize your car, maybe add some unique wheels, you can reach out to our Accessory department, and we can find you the perfect fit.
Why would I spend the money on OEM parts?
If you go to another shop to get replacement parts, you might save money, but you might risk the functionality of your car. Aftermarket parts are not tested on ever vehicle and are often made in such a way so they will fit on any car. You risk that the part will fit your car and be completely compatible. If anything goes wrong, it could affect other areas of your car and cause serious problems.
If you purchase Ford Certified parts for your vehicle, you know they have been quality tested.