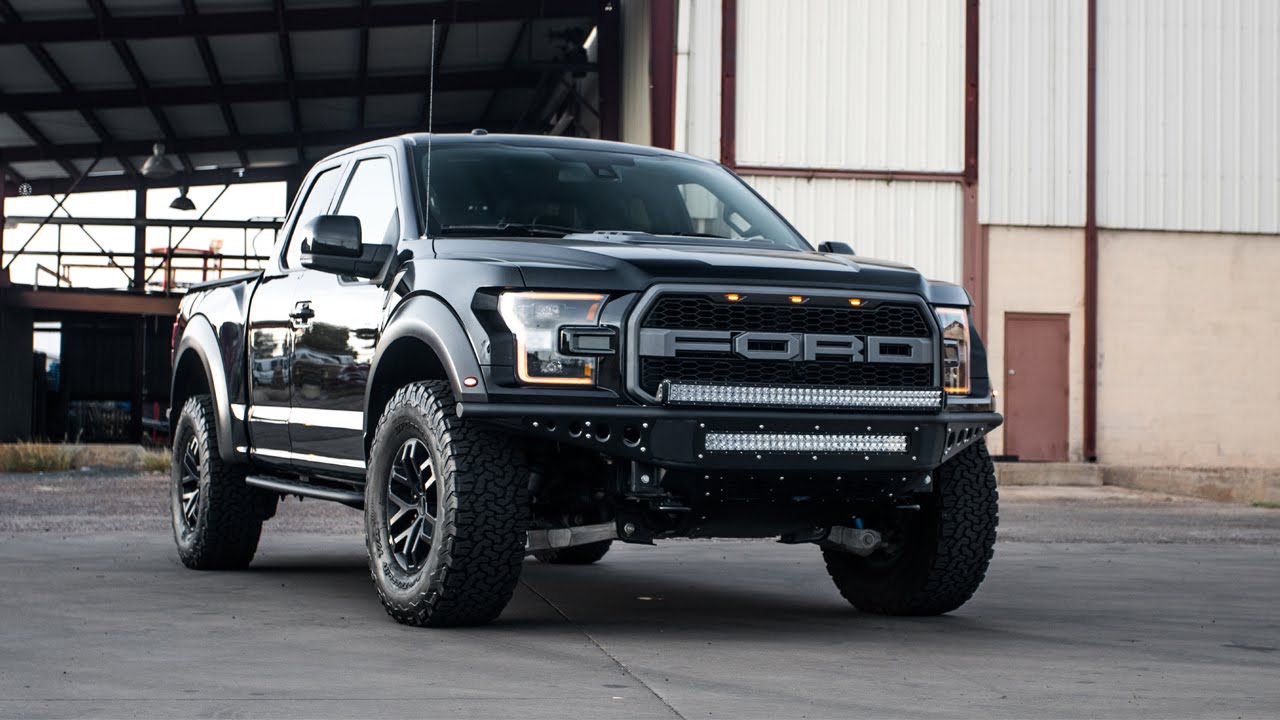 It's no surprise that Ford has yet again built the truck that is king of all other trucks. The 2017 Ford Raptor is worthy of gossip for a number of reasons, mostly starting with the powertrain, but it has multiple other features owners will love. This year it's fitted with a 10-speed automatic transmission and a 3.5-liter twin-turbocharged V-6 with 450 horsepower making it even faster than the previous 2014 model. Ford switched the engines from the 2014 model's V-8 to a V-6. This makes the engine much lighter and more suitable for the already lighter truck. Making their trucks lighter than before seems to be one of the main objectives of Ford for the year.   
The Ford Raptor is 500 pounds lighter than the normal 6,000 pounds. It is suited with dynamic suspension and handling capabilities that keep you feeling safe when you are cruising at high speeds. The Super Duty and the F-150 weren't the only ones to benefit from a lighter body, the Raptor also has the all-aluminum body, the characteristic that helped the Raptor drop 500-lbs. 3-inch Fox Racing shocks are another grand feature added to enhance the overall driving experience. They are 44 percent larger and add 0.8 and 1.9 inches of suspension to the front and rear of the truck. Better control was also enhanced thanks to the 9-stage bypass damping and a hydraulic bump. Keep the heat at bay and your truck from bottoming out on bumpy terrain.
The other reason the New 2017 Ford Raptor is gaining attention is the 6 driving modes included that help you prepare to tackle whatever terrain is in front of you. Driving Modes include:
Normal, for daily trips.
Sport for sharp turns.
Weather for snowy and rainy weather.
Mud/Sand for treks through mudslides or deserts.
Rock Crawl for rocky terrain.
Baja for the ultimate desert race experience.
The Baja mode can be switched into 4x4 automatically from the wheel console controls, will. Not only is this an incredibly fast truck, it's quiet too. Adventure may be happening outside, but tranquility will be happening inside the cab.
The Raptor is not going unnoticed but has won the 2017 10Best Trucks for the year. These trucks are selling hot and will continue for the time being. Don't miss out on the opportunity to own one! Rush down to Phil Long Ford of Chapel Hills and learn the many ways you can take this truck home with your today!
Call or visit Phil Long Ford Chapel Hills today, and we'll take you out for an exciting test drive!