2020 Ford Ranger vs. Chevy Colorado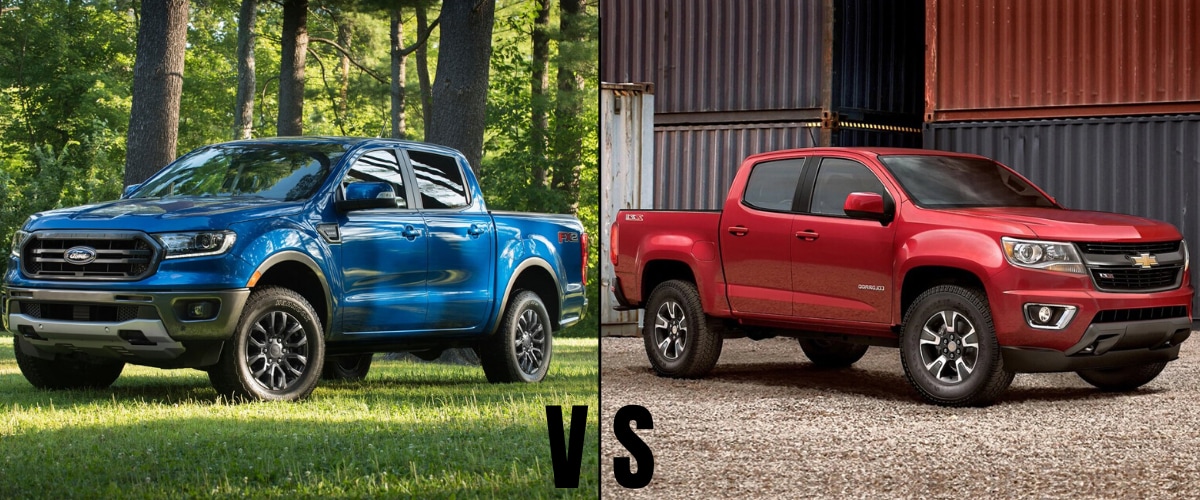 Among compact, midsize pickup trucks, the 2020 Ford Ranger and 2020 Chevy Colorado are some of the top choices. To determine which truck is best, we will break down the new Ford Ranger compared to the Chevy Colorado. In our Ford vs. Chevy truck comparison, we will review performance specs, prices, towing capacity and features. From here, we will analyze the safety features, bed size, and interior quality when deciding whether to buy a 2020 Ford Ranger or 2020 Chevy Colorado. At Phil Long Chapel Hills, we want to provide you with all the necessary information you need to make the best decision. To start off our Ford Ranger vs. Chevy Colorado comparison, we will begin by looking at the differences between price ranges and trim levels.
2020 Ford Ranger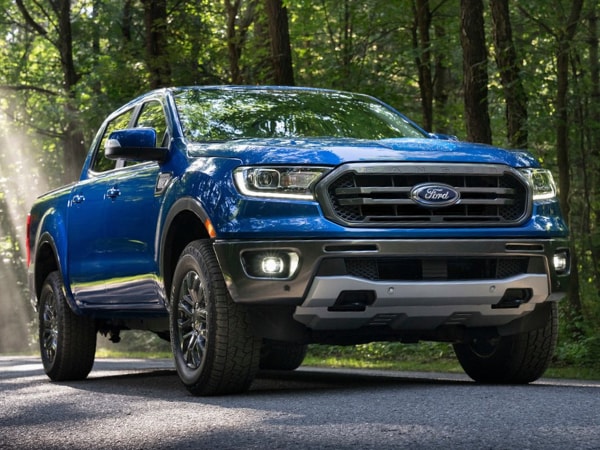 2020 Ford Ranger Price & Trims
With the 2020 Ford Ranger, we see a total of 3 trim levels with a starting price of $24,110 for the base XL trim. The XLT trim starts at $28,460, where the Lariat trim starts at $32,500. While the starting prices initially seem higher than the Colorado, you will see that there is more equipment and a more powerful base engine on these Ford trucks with more reasonable price levels.
2020 Ford Ranger Exterior
The next step in our midsize truck comparison is to look at the exterior dimensions, bed size, and exterior features. The 2020 Ford Ranger measures in at 211″ L x 78″ W x 71-72″ H and has a bed size measuring either 5' or 6', depending on the model you choose. Some notable exterior features include daytime running lamps, a black grille, front tow hooks, and available power-locking tailgate.
2020 Ford Ranger Cabs & Interior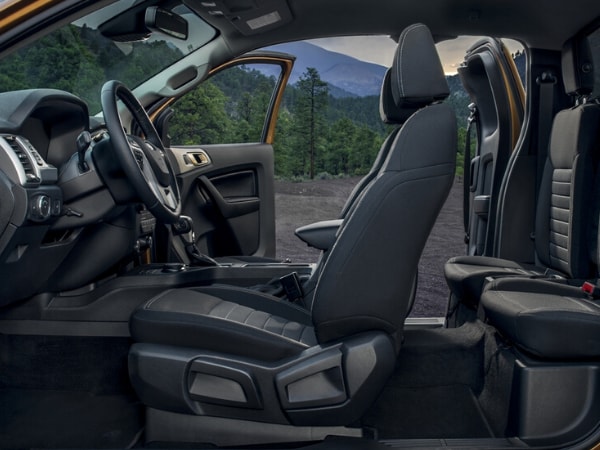 As our Ranger vs. Colorado comparison moves on, we want to examine how much space the interior provides plus the various features offered. There is room for 4-5 people to sit comfortably inside the cabin of a 2020 Ford Ranger. There are 2 cab configurations to choose from: Super Cab (4 people) or SuperCrew (5 people). Standard features include Ford's SYNC infotainment system, a 4.2-inch display screen, and a Wi-Fi hotspot.
2020 Ford Ranger Performance & Towing
One of the most important factors to look at when comparing the Chevy Colorado vs. the Ford Ranger is the performance specifications. Every 2020 Ford Ranger model comes equipped with a 2.3L Ti-VCT I-4 (4-cylinder) that pumps out 270 horsepower and 310 lb-ft. of torque. You can choose from a rear-wheel (RWD) or four-wheel-drive (4WD) drivetrain on every trim level. Fuel economy numbers are 21/26 mpg with RWD and 20/24 mpg with 4WD. You can tow up to a max of 7,500 pounds with every 2020 Ford Ranger model. With the new Ford Ranger, you don't have to sacrifice performance and capability to get a good price. To even compare to the Ranger's performance, a Colorado would need the turbo-diesel engine and that comes at a price tag higher than the most expensive Ranger available.
2020 Ford Ranger Safety Features
You want to be safe in either the Ford or Colorado truck. Safety is a major player in this comparison as it should be in any car comparison. Thankfully, the 2020 Ford Ranger comes standard with plenty of safety features including a rearview camera, AdvanceTrac with Roll Stability Control, curve control, canopy airbags, four-wheel anti-lock brakes, an active restraint system, SecuriLock anti-theft system, forward collision warning, automatic emergency braking, the MyKey system and so much more.
2020 Chevy Colorado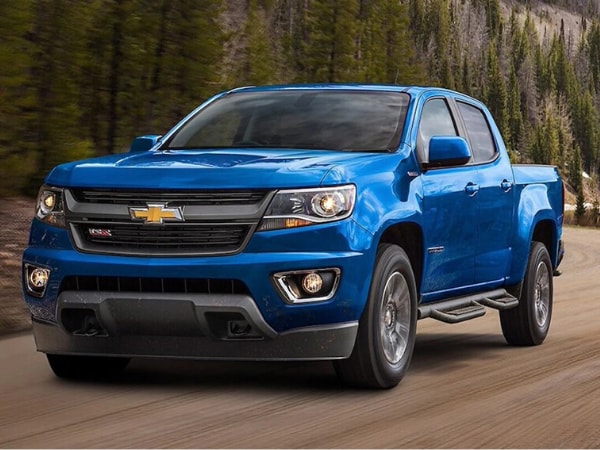 2020 Chevy Colorado Price & Trims
In our Ranger vs. Colorado price comparison, we see that the Chevy truck has more trim levels but with a higher price range. You can choose a Base model for $21,300, WT for $24,800 or the LT for $27,700. Next is the ZR1 starting at $33,900 and the final ZR2 that starts at $41,400. If you don't want to sacrifice performance and features, you will have to pay a higher price for a higher trim.
2020 Chevy Colorado Exterior
Our Ford Ranger vs. Chevy evaluation shows that the Colorado measures 212-225″ L x 74-77″ W x 70-72″ H with two truck bed sizes ranging from 5'2" or 6'2". The 2020 Chevy Colorado comes with a body-color rear bumper, mirror caps and door handles. You can also choose the optional remote locking tailgate.
2020 Chevy Colorado Cabs & Interior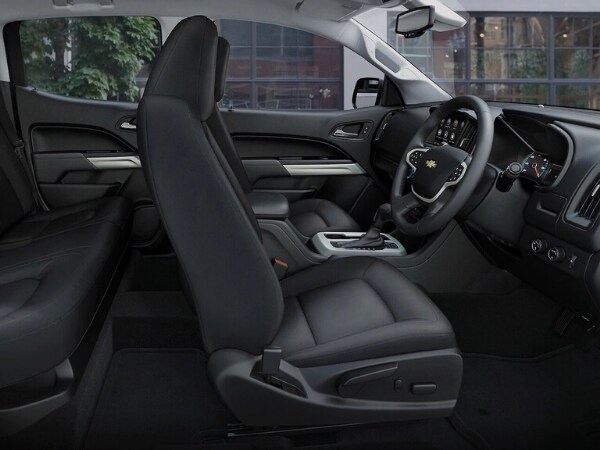 For the 2020 Colorado, we see that the Chevy truck has the option to seat between 2-5 people. This stems from the Chevy Colorado cab configurations: Extended Cab (2) and Crew Cab (5). The base trim only seats 2 people where the Ranger XL base trim seats at least 4. Standard technology in all Chevy Colorado truck models includes the Chevrolet Infotainment 3 system.
2020 Chevy Colorado Performance & Towing
Right from the start, we see that the Colorado offers 2 additional engine options. You can choose from the base 2.5L 4-Cyl. Engine that produces 200 HP and 191 lb-ft. of torque. Next is a 3.6L V6 engine that produces 208 HP with 275 lb-ft. of torque. Finally, the 2.8L turbodiesel engine pushes out 181 HP with 369 lb-ft. of torque. For fuel economy, you will see 20/26 mpg with the 2.5L engine. Upgrading to the V6 drops those numbers to 18/25 mpg. With the turbodiesel, you can expect the best fuel economy of 20/30 mpg. Here's the catch. You can tow up to 7,700 lbs. and get 30 mpg but only with the turbo-diesel (only available on the LT, ZR1, ZR2 with 4WD Crew Cab) at a price of at least $35,495. The 2.5L can only tow 3,500 lbs. where the V6 tows 7,000 lbs. 4WD is not available on the base trim or with any Extended cab configuration.
2020 Chevy Colorado Safety Features
With the 2020 Chevy Colorado, you can get an equally-as-safe truck but at a higher cost. The Ford Ranger offers more standard safety features from the get-go. In the Chevy Colorado, you will only receive the electronic traction control, 6 airbags, theft-deterrent system, Teen Driver system and a rearview camera as standard safety features. You can only get more advanced safety features like forward collision alert and lane departure warning on certain higher trim levels with certain configurations.
Ranger or Colorado: Which is the Better Midsize Truck Option?
This may come as a shock but we choose the 2020 Ford Ranger over the Chevy Colorado. Some may call it bias but the specifications speak for themselves. With a lower price range, the new Ford Ranger offers better performance, more social-ability (seating capacity) and a myriad of standard safety features. Features and specifications aren't sacrificed to save the consumer a financial heart attack. To step into a truly comparable Chevy Colorado, it will cost you so much money you'll wonder if you're buying a midsize truck to begin with. Check out the 2020 Ford Ranger in Colorado Springs and you'll see why; bias or not.
Still Not Convinced? Test Drive a 2020 Ford Ranger & See For Yourself
New Ford Ranger Inventory in Colorado Springs, CO