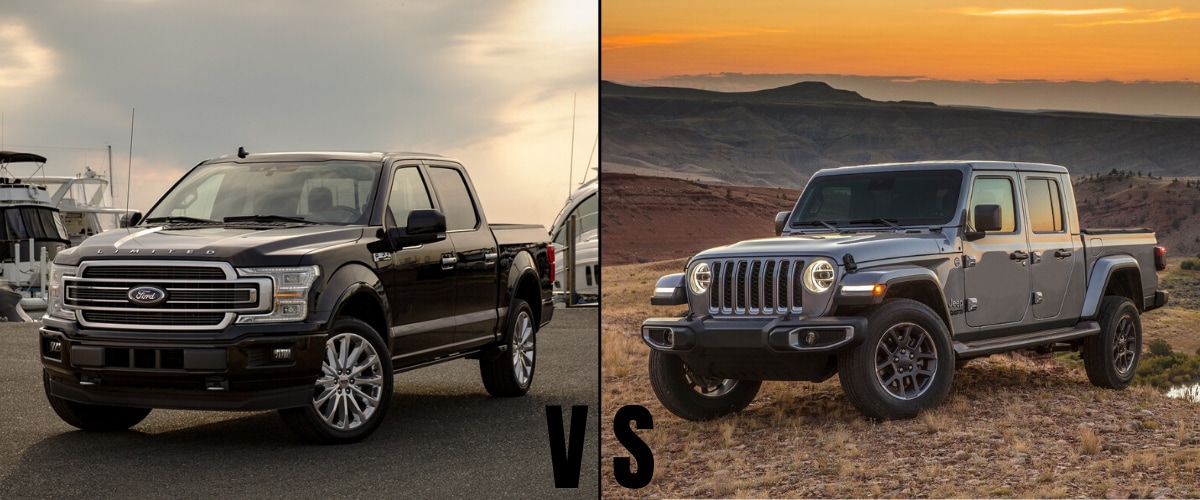 Does the Gladiator have what it takes to beat the Champ?
You've decided it. It's been a long time coming, and now you want a shiny new truck. As you begin your search, smart shoppers like yourself will naturally research competing models to find what's right for you. On your journey, you will start to wonder what the differences are between the 2020 Ford F-150 and 2020 Jeep Gladiator. Comparing the new truck on the scene (Gladiator) to the bestselling truck in America for over 40 years (F-150) is only natural; we won't judge you because we do it ourselves. Our Jeep Gladiator vs. F-150 comparison will help you decide between the two pickup truck models by unveiling the differences in pricing, interior features, engine options, towing ability, and much more. While the Gladiator has received a lot of hype for being the new kid on the block, it's apparent that it will be hard to compete against America's bestselling truck.

View New Ford F-150 Trucks


2020 Ford F-150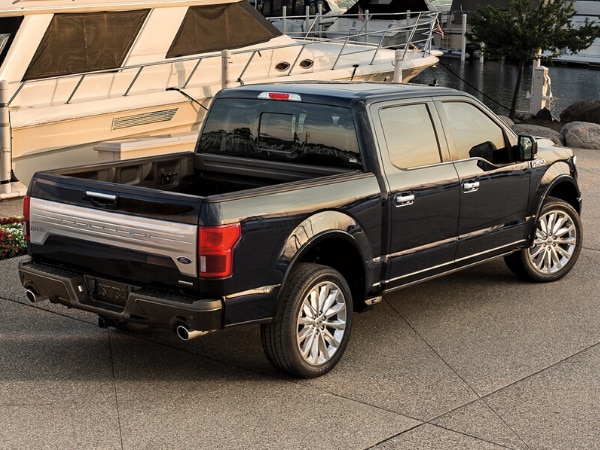 2020 Jeep Gladiator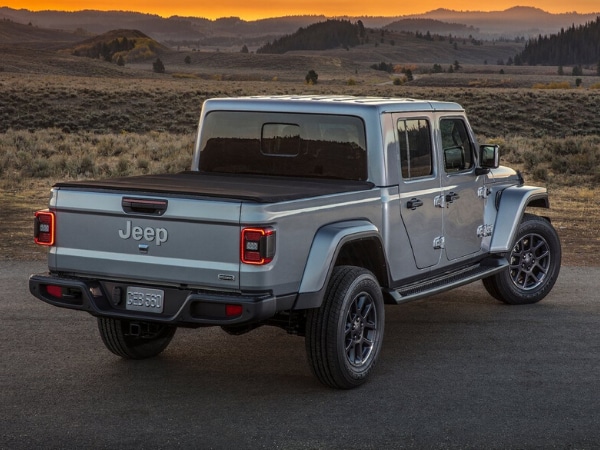 2020 Ford F-150 Price & Trims
The 2020 Ford F-150 starts at $28,795 and comes in seven trim levels. With this wide variety of trim options, there is an F-Series truck designed for everyone.
XL: $28,795
XLT: $34,760
Lariat: $42,750
King Ranch: $52,990
Raptor: $53,455
Platinum: $55,520
Limited: $67,735
2020 Jeep Gladiator Price & Trims
The 2020 Jeep Gladiator starts at a higher price of $33,545 and is available in six trim levels. This small difference in variety leaves many customers without an option that suits their needs.
Sport: $33,545
Sport S: $36,745
Overland: $40,395
Rubicon: $43,545
Mojave: $44,120
North Edition (limited edition model): $45,915
Schedule a 2020 Ford F-150 Test Drive Today
2020 Ford F-150 Interior Design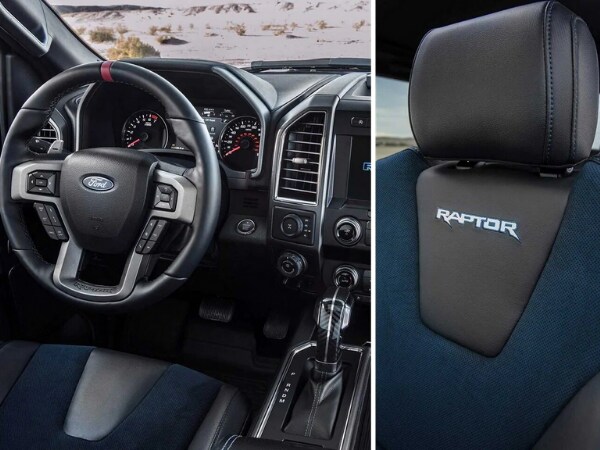 *Ford F-150 Raptor interior shown.

The size of your 2020 Ford F-150 partially depends on the cab configuration chosen. This new F-150 comes in Regular, SuperCab, and SuperCrew body styles. These sit either three, five, or six adults comfortably. Standard interior equipment includes an infotainment system, pre-collision assist with automatic braking, dome lights with fade-to-off interior lighting, black vinyl floor covering, automatic high beams, and a 2.3" productivity screen.
2020 Jeep Gladiator Interior Design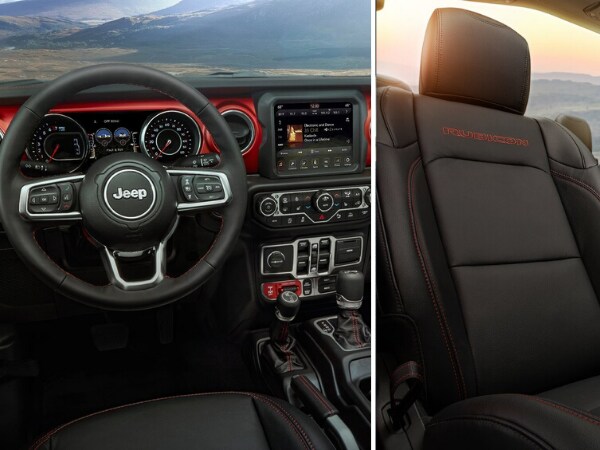 *Jeep Gladiator Rubicon interior shown.

The 2020 Jeep Gladiator has space for five occupants to fit comfortably. In comparison to the F-150, there are far fewer cab options with the Jeep truck. The Crew Cab configuration is the only cab choice with the Gladiator. Standard features include a folding soft top, sunroof, Uconnect infotainment system, a five-inch touch screen, two USB ports, Bluetooth, and an eight-speaker sound system.
2020 Ford F-150 Exterior Dimensions & Colors
The 2020 Ford F-150 offers three different truck bed lengths. You can choose from a 5.5-, 6.5-, or 8-foot bed length. You can also pick from 17-, 18-, 20-, or 22-inch tires. Overall, the 2020 F-150 dimensions measure 209-251″ L x 80-86″ W x 75-79″ H. Additionally, there are 14 exterior colors, allowing you to personalize your truck just the way you want.
2020 Jeep Gladiator Dimensions & Colors
The 2020 Jeep Gladiator measures 218″ L x 74″ W x 75-76″ H, which is much different from the size range of the F-150. Gladiator owners only have the choice between 17- and 18-inch tires, with ten exterior color options. Besides, the new Gladiator only comes with one truck bed size - five feet. A single truck bed size is far less than what most truck owners require.
2020 Ford F-150 Engines & Powertrain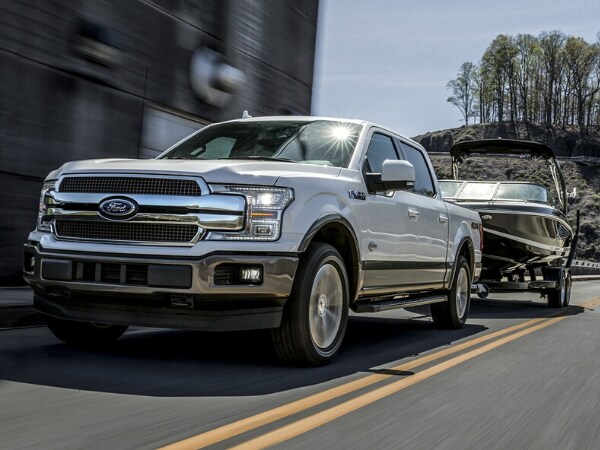 There are six powertrain options with the 2020 Ford F-150: the standard 290-hp 3.3L Ti-VCT V6 with 265 lb-ft. of torque, the 325-hp 2.7L turbo EcoBoost V6 with 400 lb-ft. of torque, the 375-hp 3.5L EcoBoost V6 with 470 lb-ft. of torque, the 395-hp 5.0L V8 with 400 lb-ft. of torque, the capable high-output 450-hp EcoBoost V6 with 510 lb-ft. of torque, and the 250-hp 3.0L Power Stroke turbodiesel V6 with 440 lb-ft. of torque. With so many powertrain options, the fuel economy varies greatly. However, the smaller 2.7L EcoBoost and 3.0L turbodiesel engines produce the best MPG ratings at 20 city/26 highway and 21 city/29 highway, respectively. The most potent engine, the H.O. 3.5L EcoBoost V6, still manages to achieve a fuel range of 15-17 city/18-22 highway MPG depending on the configuration.
2020 Jeep Gladiator Engines & Powertrain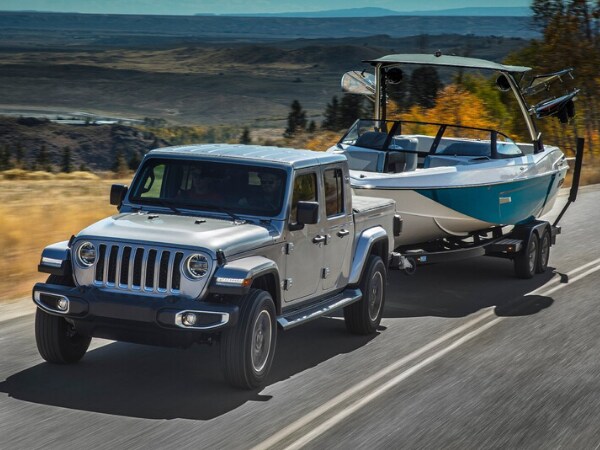 Potency and variety are not what the Gladiator has to offer. The 2020 Jeep Gladiator only comes with a singular engine offering; the standard 285-horsepower 3.6L Pentastar V6 24V VVT Engine with only 260 lb-ft. of torque and ESS (Engine Stop-Start). A 6-speed manual transmission comes as standard equipment with an optional 8-speed automatic 850RE transmission. Having only one engine to choose from, and a weaker one at that, you would hope for some decent fuel economy. However, the Gladiator V6 only receives 16 city/23 highway mpg, some of the worst ratings in the segment. It seems that the ESS feature doesn't do much to help here.
2020 Ford F-150 Payload & Towing Capacity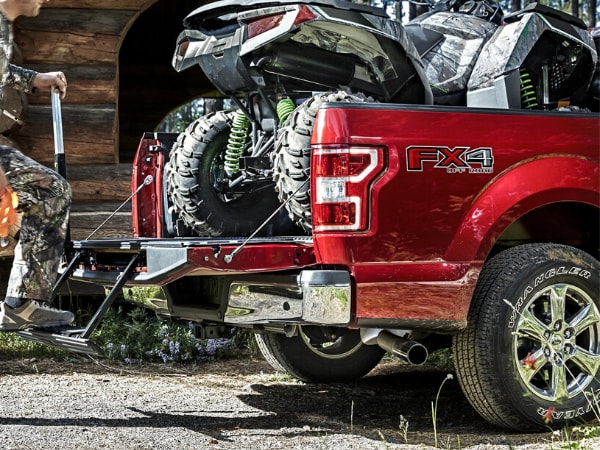 The biggest difference when choosing the F-150 or Gladiator is the capability. The 2020 Ford F-150 can tow up to 13,200 pounds and will haul up to 3,270 pounds when properly equipped (almost twice the capacity of the Gladiator). Those are valid best-in-class towing numbers.
2020 Jeep Gladiator Payload & Towing Capacity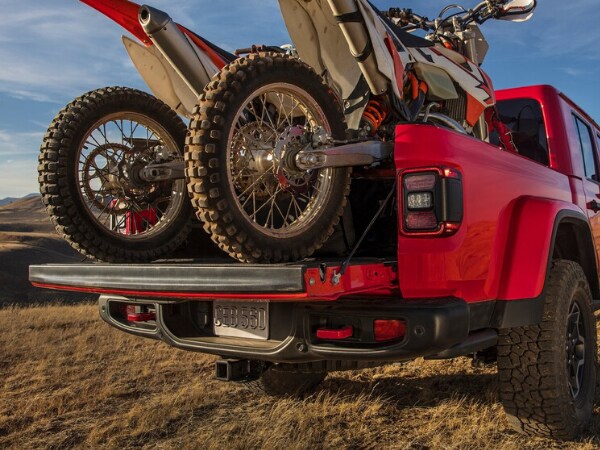 The 2020 Jeep Gladiator towing capacity can't compete with the Ford F-150. This Jeep truck only tows up to 7,650 pounds when properly equipped. Further, the new Jeep Gladiator max payload only reaches up to 1,600 pounds. As far as capability or dependability, the Gladiator does not compare.
2020 Ford F-150 Safety Features & Ratings
The 2020 Ford F-150 has an NHTSA five-star rating, while the IIHS awarded this truck with a Good rating in all crashworthiness tests. Standard safety equipment includes a rearview camera, forward collision warning, automatic emergency braking, pedestrian detection, curve control, and Dynamic Hitch Assist.
2020 Jeep Gladiator Safety Features & Ratings
Not only has the 2020 Jeep Gladiator failed to receive any safety ratings from the NHTSA or the IIHS, it only comes standard with a rearview camera. All other equipment requires that owners upgrade to access it. This safety information, along with the lower capacity and lack of options, further proves who the real winner is among the Ford F-150 or Jeep Gladiator.
Where the F-150 Impresses, the Gladiator Disappoints
Honestly, we don't know where to start here. For all the trim levels the 2020 Jeep Gladiator provides, there is little-to-no variety. The exterior design barely changes as well. You can't customize the length of your truck bed or configure your cabin how you like it. You have a singular, low-potency engine with poor tow ratings and low payload ratings. You start to wonder what exactly you are paying for because it doesn't seem like a truck; you might as well buy a regular Jeep Wrangler. The 2020 Ford F-150 is entirely out of the Gladiator's league. The towing capacity, payload rating, exterior design cues, cab configurations, truck bed lengths, and the impressive lineup of engine options offered with the F-150 makes the Gladiator seem like a toy truck. If you need a truck that looks like a truck, drives like a truck, and works like a truck, you need the F-150. New truck on the block or not, the Gladiator disappoints at almost every turn. Please browse our current inventory of new Ford F-150 trucks below and schedule a test drive today. See what a real truck feels like, not just what one looks like.

Browse New Ford F-150 Trucks