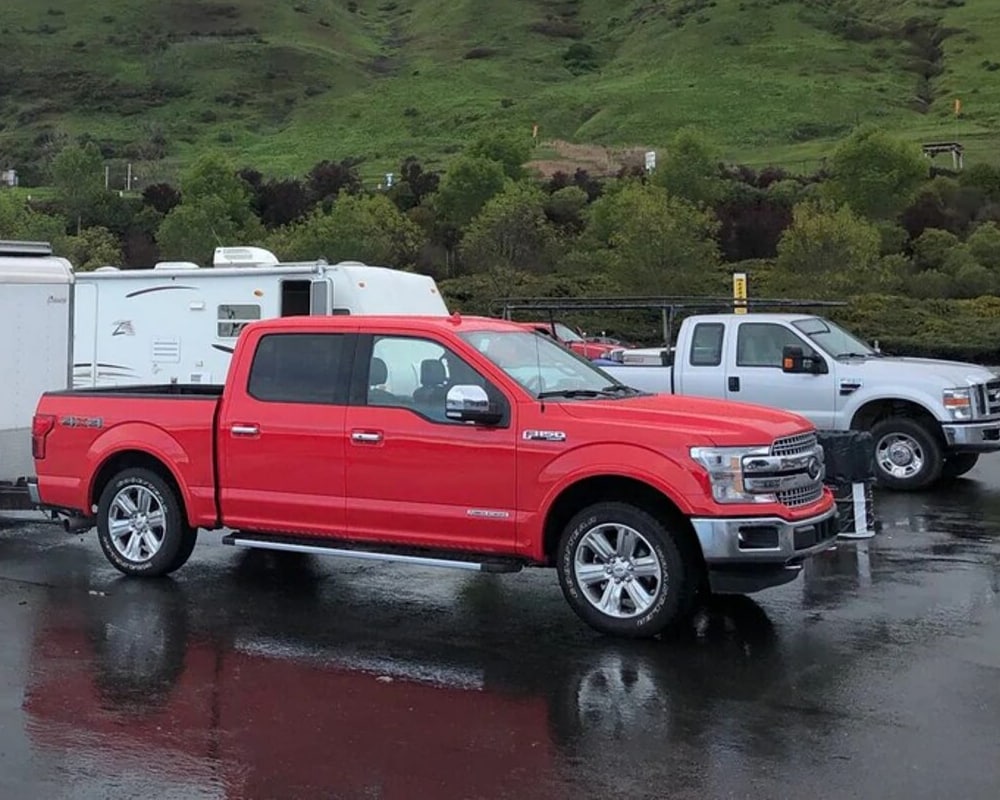 When you need a new truck that has a high towing capability, you must start by determining the weight of the item you plan to tow, the curb weight of the truck, the GVWR and weight distribution. This should include any additional weight from fluids and cargo. Further, you should choose the right optional equipment in order to tow properly or perform heavy duty tasks. Performance is often hindered on hilly terrain, so you don't want to choose bare minimum specifications. After looking at the 2020 Ford F-150 towing capacity, we think you will agree this truck is right for you.
View New Ford F-150 Inventory
2020 Ford F-150 Towing Capacity
The 2020 Ford F-150 towing capacity is expected to remain similar to the 2019 Ford F-150. In 2019, this meant you can tow up to 13,200 pounds with the right equipment. In 2020, the new Ford F-150 has a minimum conventional towing capacity of 5,000 lbs. and a maximum tow rating of 13,200 lbs.
Towing Capacity Chart: F-150 Towing Specs
Our 2020 Ford F-150 towing capacity chart shows what we expect with the new full-size Ford truck.
| | | | | |
| --- | --- | --- | --- | --- |
| Engine | Horsepower | Torque Output | Max. Towing Capacity | Max. Payload Capacity |
| 2.7-liter turbo EcoBoost | 325 hp | 400 lb-ft | 8,500 lbs | 2,470 lbs |
| 3.5-liter EcoBoost | 375 hp | 470 lb-ft | 13,200 lbs | 3,230 lbs |
| High Output 3.5-liter EcoBoost | 450 hp | 510 lb-ft | 6,000-11,100 lbs | 1,000-1,520 lbs |
| 3.3-liter Ti-VCT V6 | 290 hp | 265 lb-ft | 7,700 lbs | 1,990 lbs |
| 5.0-liter Ti-VCT V8 | 395 hp | 400 lb-ft | 11,600 lbs | 3,270 lbs |
| 3.0-liter PowerStroke Turbo Diesel | 250 hp | 440 lb-ft | 11,500 lbs | 1,940 lbs |
2020 Ford F-150 Payload
The 2020 Ford F-150 payload remains similar to the 2019 F-150 model with the ability to carry up to 3,270 pounds when configured properly.
F-150 Heavy-Duty Payload Package
The F-150 heavy-duty payload package maximizes your carrying ability. The highest numbers are available on the 2020 F-150 XL Regular Cab with an 8' bed. It is equipped with a 5.0-liter Ti-VCT V8 engine, 4x2 and 18-inch heavy-duty wheels.
2020 Ford F-150 Hitch Receiver Weight Capacity
The 2020 Ford F-150 hitch receiver weight capacity chart gives you the information you need to tow safely.
| | | | | |
| --- | --- | --- | --- | --- |
| Vehicle | Weight-Carrying Max. Trailer Capacity (lbs) | Max. Tongue Load (lbs.) | Weight-Distributing Max. Trailer Capacity (lbs.) | Max. Tongue Load (lbs.) |
| REAR STEP BUMPER |   |   |   |   |
| F-150 | 5,000 | 500 | N/A | N/A |
| HITCH RECEIVER |   |   |   |   |
| F-150 | 5,000 | 500 | 13,200 | 1,320 |
| F-150 Raptor | 5,000 | 500 | 8,000 | 800 |
F-150 Towing Guide
The 2020 Ford F-150 Towing Guide reminds you to check your brakes, trailer lamps, safety chains, and trailer wiring harness before every trip. Make sure you properly distribute the weight and use caution while turning or backing up. Use your manual to learn how to properly used your new Ford F-150's dynamic trailer hitch assist technology. It's always best to practice maneuvering your tow vehicle in a large, empty spot before heading onto the road. This way you can get accustomed to using your towing mirrors alongside your rear-view camera for optimal performance.
2020 Ford F-150 Curb Weight
It was expected that the 2020 Ford F-150 curb weight would remain the same as the 2019 model lineup. This totals between 4,069 to 5,697 pounds.
2020 F-150 GVWR
The 2020 Ford F-150 gross vehicle weight is rated at a minimum of 6,070 lbs. up to a max of 7,850 pounds.
Will a Ford F-150 Electric Hybrid Affect Towing?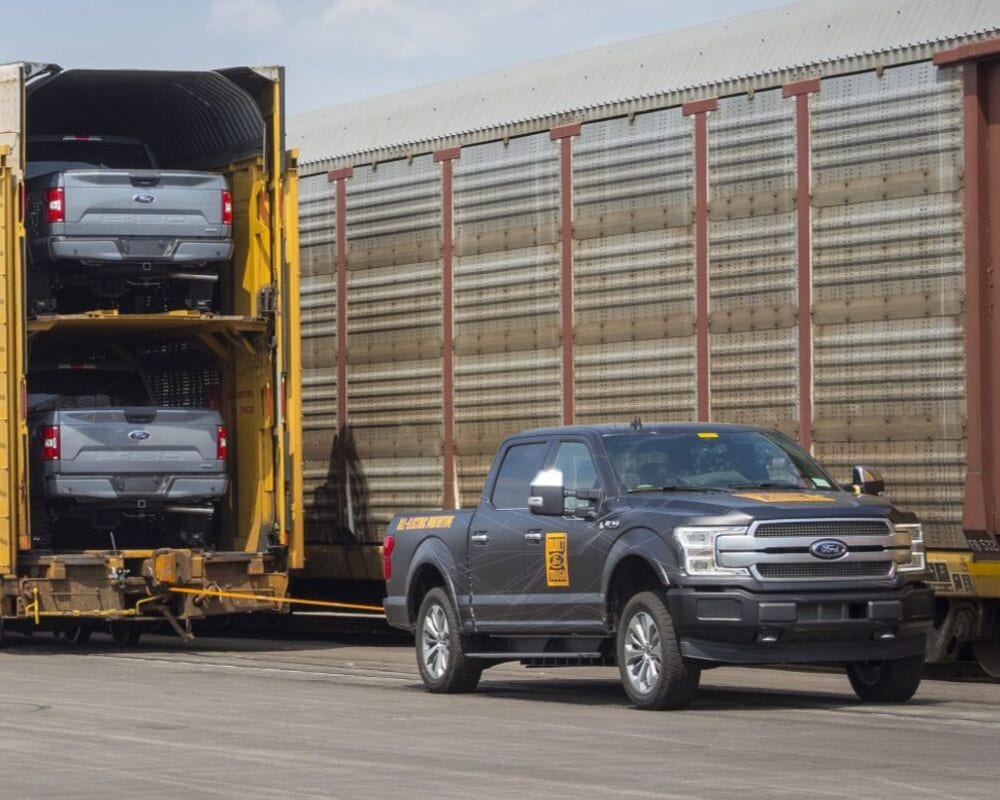 We've heard a lot of rumors regarding a 2020 Ford F-150 Electric Hybrid, but as of now it appears that we will have to wait until at least 2021 to see an F-150 Hybrid. However, we know it's coming when just aren't sure of the exact date. Ford has made many claims that it's entire lineup, including the F-150, will go completely electric eventually. During these interviews, Ford has also claimed that any electric powertrain they develop won't sacrifice any power and capability making the switch to electric completely painless. Watch this video of an all-electric F-150 prototype towing over 1m+ pounds. The future of towing with an electric Ford F-150 is exciting and extremely promising given that no power or performance seems to be sacrificed moving away from internal combustion engines (ICE) to electric engines (BLDC, DC, AC). Furthermore, there are already electric plug-in hybrid upfits for F-150 and F-250 fleet trucks available now. This is a good sign for the all-electric future of the Ford F-Series, it's just a matter of time.
F-150 Bed Length
With three 2020 Ford F-150 bed length options available to you, there's plenty of versatility. Choose from the standard 5-1/2 ft., 6-1/2 ft. And 8 ft. lengths.
2020 Ford F-150 Cargo Box Volume
The 2020 Ford F-150 cargo box volume changes based on the truck bed size you choose. In the 8-foot box, you have 77.4 cu. ft. available. The 6.5-foot box provides 62.3 cu. ft. while the 5.5-foot box offers 52.8 cu. ft.
New 2020 Ford F-150 for Sale in Colorado Springs
When the 2020 Ford F-150 is available at Phil Long Chapel Hills, you will want to be the first to get behind the wheel. Stay tuned for more news, so you know when it's time to act on the 2020 Ford models. To save more money and enjoy the latest upgrades, opt to lease a 2020 Ford F-150. This lowers your monthly payments and allows you to upgrade in a few years. Stop by Phil Long Ford Chapel Hills today to learn more about your options for a new F-150.